Evan M. McLemore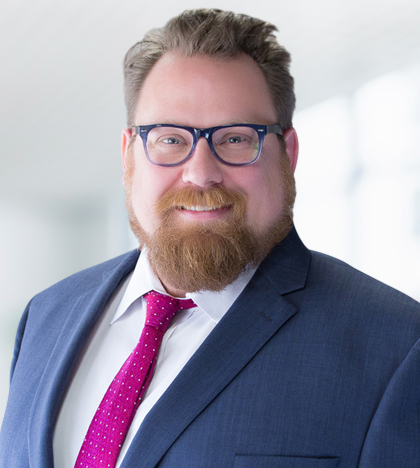 Evan McLemore has been practicing law in state, federal, and tribal court since April 2013 when he joined Levinson Law, P.C. In addition to his private practice, he also serves as a Hearing Officer for the Cherokee Nation Administrative Appeals.
Practice Areas
Oil and Gas Litigation
Business Litigation
Insurance Litigation
Environmental Litigation
Serious Injury and Malpractice Litigation
Professional Associations
Oklahoma Bar Association
Creek County Bar Association
Tulsa County Bar Association
Cherokee Nation Bar Association
Education
University of Central Arkansas (B.A. magna cum laude, 2002)
University of Tulsa College of Law (J.D. magna cum laude, 2012).
Bar Admissions
Cherokee Nation Supreme Court (2015)
Oklahoma and U.S. District Court, Eastern (2016), Northern (2013) and Western (2016) Districts of Oklahoma
Tenth Circuit Court of Appeals (2016)
Honors and Awards
SuperLawyers Rising Star (2016)
Community and Legal Contributions
Hearing Officer, Cherokee Nation Administrative Appeals Board (2016-current);
Oklahoma Corporation Commission CLE presentation on Subsurface Trespass (2015);
Oklahoma Corporation Commission CLE presentation on ramifications of newly enacted 52 O.S. §137.1 (2016).
Noteworthy Cases
Osage Producers Ass'n v. Jewell, 15-CV-469-GKF-FHM, 2016 WL 80660 (N.D. Okla. Jan. 7, 2016) (successfully argued for the remand of newly approved Codes of Federal Regulation governing oil and gas production in Osage County back to the agency for further review pursuant to a Negotiated Rulemaking)
Coates v. Fishinghawk, et al, SC-2015-04 (Cherokee Nation Supreme Court) (successfully argued for the disqualification of candidate for Deputy Principal Chief before the Cherokee Nation Supreme Court)
Allen, et al, v. Semper Fidelis Exploration & Production, LLC, et al (judgment for clients for $356,490.94 against Defendants for oil and gas investment fraud)