Blind Spot Truck Accidents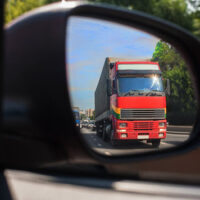 All kinds of car crashes can result in serious injuries for the occupants of the vehicles involved. Some types of collisions, however, have a greater potential to cause injuries and property damage than others. Often, it is collisions involving large commercial vehicles (which have much larger blind spots than most passenger vehicles) that tend to result in the worst injuries.
To learn more about your own recovery options following a collision with a large commercial vehicle, please reach out to our experienced Tulsa truck accident lawyers today.
Blind Spots on Commercial Vehicles
Like any other vehicle accident, truck crashes occur for a variety of reasons. Commercial vehicles do, however, have characteristics that make it more likely that they will be involved in a collision. Blind spots, for instance, are extremely large on commercial vehicles, which makes lane changes particularly dangerous for truck drivers. While drivers are trained to mitigate the size and effects of these blind spots, these kinds of accidents still can and do occur.
What are "No Zones"?
Blind spots on commercial vehicles are often referred to as "no zones", as motorists should be wary of ever driving in those areas. On commercial trucks, these areas are located not only on the sides of the vehicle and the spot directly behind the truck, but also around 20 feet in front of the vehicle. Because they are more pronounced than the blind spots on passenger cars, smaller vehicles can travel much further before a truck driver actually sees them.
Unfortunately, this means that there is a greater chance of being involved in this kind of collision with a commercial vehicle than with a standard car. In fact, the Federal Motor Carrier Safety Administration (FMCSA) reports that as many as one-third of all collisions between passenger vehicles and commercial trucks occur in "no zones".  While they can take place at any time, blind spot accidents are most likely to occur when a truck is making a wide turn, or attempting to merge into another lane.
Preventing Blind Spot Accidents
Unfortunately, it isn't always possible to avoid a blind spot accident with a commercial vehicle, as truck drivers carry the bulk of the responsibility in preventing these kinds of crashes. There are, however, a few things that motorists can do to help reduce their chances of being involved in this kind of crash, including:
Being extra aware of the truck's blind spot when it is turning, reversing, or changing lanes;
Remembering that if they cannot see the truck driver in the side-mirror, then the truck driver probably can't see them either;
Passing trucks quickly to avoid remaining in their blind spot;
Making sure that they can fully see the front of the truck from top to bottom before changing lanes; and
Keeping at least 30 feet of space between themselves and the truck.
Complimentary Consultations Available
If you were hurt in a collision with a commercial vehicle, you may be able to pursue compensation by filing an injury claim against the trucking company. Please call 918-492-4433 to discuss your case with one of the dedicated Tulsa truck accident lawyers at Levinson Law, P.C. today.
Resource:
fmcsa.dot.gov/safety/research-and-analysis/large-truck-crash-causation-study-analysis-brief