Commercial Vehicle Rollover Accidents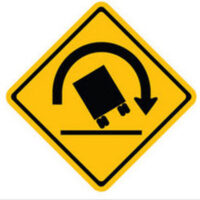 Technically, any kind of vehicle can be involved in a rollover accident. Certain types of vehicles, however, including those with high profiles, like SUVs and commercial trucks, are at an especially high risk of rolling over. Many rollover truck accidents can be linked to truck driver error, or problems with how a truck's cargo was loaded and transported, in which case, the driver or his or her employer could be held liable for the resulting accident.
Breakdown of a Rollover Accident
The centrifugal force exerted on a truck when it travels along a curved path can cause the vehicle to lean away from the direction of the curve, which in turn, can result in a rollover accident, where the vehicle overturns. As we mentioned previously, tractor trailers are very vulnerable to rollover accidents because of the vehicles' high center of gravity and unstable loads. An estimated nine percent of all truck crashes are thought to involve rollovers. This is an alarming statistic because rollovers are amongst the deadliest of car accidents. Tragically, many rollover truck accidents are avoidable, as they are the result of driver error.
Factors that Contribute to Rollover Truck Accidents
There are a lot of different factors that can contribute to a truck rollover accident, including:
Excessive speeds, especially at curves in the road;
The weight, height, security, and position of the cargo being carried;
The condition of the truck's brakes and tires;
The road's surface; and
Intersection conditions.
Driver inattention has also proven to be a major crash contributor, with daydreaming, distraction, or even falling asleep at the wheel leading to situations where a driver makes a sudden change in direction, resulting in a rollover. Over-steering, drifting into another lane, and overcorrecting to the point of having to counter-steer to remain in a lane, or on the roadway at all, also contribute to many rollover accidents.
Recovery After a Rollover Accident
The injuries sustained in rollover truck accidents are often severe, as they typically involve multiple vehicles (and multiple impacts), spilled cargo, and even engine fires. Victims could suffer everything from serious head trauma and broken or crushed bones to burns and amputations. Diagnosing, treating, and recovering from these kinds of catastrophic injuries can be painful and ruinously expensive. Fortunately, injured parties who can prove that someone else's negligence caused the crash, could be entitled to damages. Potentially liable parties include:
The truck's driver if he or she was speeding, distracted, or otherwise violated a traffic law;
The trucking company if it failed to train its employees, or to inspect and maintain its vehicles;
The company responsible for loading and securing the truck's cargo; and
Another driver, whose negligence may have instigated the accident.
For help investigating the cause of your own truck accident, please reach out to our legal team today.
Experienced Tulsa Truck Accident Attorneys
At Levinson Law, P.C., our Tulsa truck accident lawyers have been fighting for the rights of Oklahoma accident victims for decades. To speak with a member of our legal team about your own legal options following a truck accident, call us at 918-492-4433 today.
Sources:
ncbi.nlm.nih.gov/pmc/articles/PMC3256782/
trid.trb.org/view/710416