Dump Truck Dangers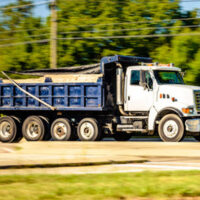 Any type of large truck poses a risk to other drivers. Certain kinds of trucks, however, are a particular threat to others on the road. Dump trucks, for instance, which carry extremely heavy, uneven loads, are known for making frequent stops, and are often out early in the morning before the sun has risen. All of these factors make collisions with these kinds of trucks more likely and potentially more dangerous. Fortunately, drivers and passengers who are injured in a crash with a dump truck are often entitled to compensation for their losses. To learn more, please reach out to our dedicated Tulsa truck accident lawyers today.
Dump Trucks are Categorized as Large Trucks
While a dump truck or garbage truck may not be as imposing as a semi-truck, they still fall under the same category of large truck, which is made up of vehicles with a gross weight of 10,000 pounds or more. Unfortunately, it is their size that primarily makes these kinds of vehicles so dangerous in the event of a collision. In fact, the National Highway Traffic Safety Administration (NHTSA) estimates that more than 70 percent of the people who are killed in crashes with large trucks are the individuals in the smaller vehicle.
Travel Patterns, Driver Error, and Dangerous Cargo
Dump trucks also pose dangers besides their great weight and size. These kinds of vehicles, for instance, are often used to make repeated trips between construction sites, suppliers, and waste drop-off areas. Furthermore, drivers are often placed under significant pressure to finish a job in a certain amount of time, leading to dangerous actions while driving, including speeding. One of the biggest risks posed by these trucks is that their cargo is often left uncovered during travel. This can, in turn, result in debris falling off the truck and into the road, where unknowing drivers could strike it or be forced to serve out of the way and into traffic.
Recovering Compensation
The injuries sustained in collisions with large vehicles, like dump trucks, are often severe and may even prove fatal. Even after obtaining diagnosis and treatment, a person may still be required to go through rehabilitation, or may struggle with chronic pain and permanent disability, all of which can have far-reaching consequences for someone's quality of life down the road. Obtaining damages from the at-fault parties who caused the crash can make all the difference in an accident victim's ability to get the help that he or she needs. Liable parties could include the dump truck's driver, the trucking company that owned and operated the vehicle, a contractor, or even another driver. For help determining who was responsible for your own accident, please reach out to our legal team today.
Were You Hurt in a Truck Accident? 
To set up a meeting with one of the dedicated Tulsa truck accident lawyers at Levinson Law, P.C., please call 918-492-4433 today. You can also reach a member of our legal team by completing an online contact form.
Resource:
crashstats.nhtsa.dot.gov/Api/Public/ViewPublication/813110