The Most Common Motorcycle Injury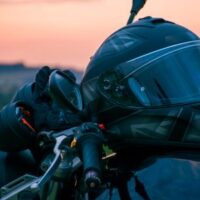 Motorcycle accidents tend to result in a wide range of injuries for the riders involved, not only because of the smaller size of their vehicles, but due to a lack of crash protection. These injuries can include everything from abrasions and lacerations to traumatic brain injuries (TBIs) and spinal cord injuries. According to the National Highway Traffic Safety Administration (NHTSA), however, lower extremity injuries are the most common injuries suffered by motorcycle riders.
Lower Extremity Injuries 
Injuries to the lower extremities are amongst the most common injuries suffered by motorcycle riders. They are, for instance, thought to account for 56 percent of the injuries sustained by non-fatally injured accident victims and 46 percent of injuries in fatally injured riders. Of these injuries, fractures were the most common, with over one-third affecting the tibia or fibula. Thigh and knee fractures are also common, as are hip injuries, of which dislocations account for nearly 40 percent. Pelvic fractures are another common motorcycle accident injury that can accompany dislocations. Most high-impact pelvic fractures typically require emergency medical attention, reconstructive surgery, and physical therapy.
How Do Lower Extremity Injuries Occur?       
Multi-vehicle collisions tend to result in a much higher risk of lower extremity injuries, but the highest risk is in broadside crashes, where another vehicle strikes a motorcycle. Besides fractures, many motorcycle accident victims suffer damage to their ligaments, muscles, and tendons. These types of injuries often result in extended and costly medical treatment and may even lead to permanent disability. Other leg injuries, particularly crush injuries, occur when a rider is pinned beneath the weight of the motorcycle.
Compensation for Lower Extremity Injuries 
While less severe than head and chest injuries, lower extremity injuries are still painful and disabling, and in some cases, could actually end up being life-threatening. Riders who sustain these kinds of injuries usually require emergency care, an overnight hospital stay, surgery, and prescription medications. Many also require physical therapy and must take some time off from work. Fortunately, injured parties can often recover reimbursement for these expenses from the at-fault party who caused their crash.
Other recoverable losses, include lost wages, property damage, and pain and suffering. While collecting monetary damages for these losses won't necessarily return an accident victim to his or her pre-accident state of health, it can go a long way towards helping injured parties and their families pay off mounting medical debt while they try to rebuild their lives. To learn more about what you'll need to prove to file your own successful motorcycle accident claim, feel free to call our legal team today.
Contact Our Tulsa Law Firm Today 
If you or a loved one sustained a lower extremity injury, or were otherwise injured in a motorcycle crash, please call the experienced Tulsa motorcycle accident lawyers at Levinson Law, P.C. for help. We can evaluate your case, investigate the cause of your accident, and if possible, help you seek compensation for your medical bills and other losses. You can set up a free case review by calling us at 918-492-4433 today.
Sources: 
crashstats.nhtsa.dot.gov/Api/Public/ViewPublication/810982
pubmed.ncbi.nlm.nih.gov/8083893/