5 Tips For Sharing The Road With Commercial Vehicles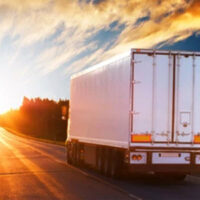 Auto accidents that involve semi trucks and other commercial vehicles are notorious for causing devastating injuries. For this reason, motorists should use extra care when sharing the road with these kinds of vehicles. We've included a few tips to help you with this endeavor, but also recognize that sometimes, even the most careful of drivers could end up injured in an accident through no fault of their own. If you or a loved one end up in this situation, please don't hesitate to reach out to our experienced Tulsa truck accident lawyers for help with your claim.
Watch for Blind Spots
Commercial vehicles tend to have much larger blind spots than the average passenger sized car. These blind spots can make it impossible for a truck driver to see approaching vehicles, so motorists should attempt to avoid a truck's blind spots, which are located:
Up to 20 feet directly in front of the truck;
Up to 30 feet directly behind the truck; and
Along each side of the truck between the front of the vehicle and the first half of the trailer's length, especially on the right side.
It's a good rule of thumb that if you cannot see yourself in a truck's side-view mirror, then it's safe to assume that the driver cannot see you either.
Keep a Safe Following Distance
Commercial vehicles often travel slowly, so it can be easy to find yourself following too closely. This, however, should be avoided at all costs, as semi-trucks require much longer distances to come to a complete stop or to respond to a dangerous situation. Leaving at least a four second window between yourself and a semi-truck is usually encouraged.
Anticipate Wide Turns
Most semi-trucks have extremely wide turning radiuses, so If you find yourself driving near a semi-truck that is attempting to turn, you should try to avoid passing on the same side that the truck is turning. It's also important to leave plenty of space between your vehicle and the truck to avoid ending up in its path.
Pass Trucks Safely
When passing a semi-truck, it is important to do so in a safe manner by:
Checking whether you can see the driver in the truck's side-mirror;
Using your turn signal to alert the driver of your intent;
Attempting to pass the truck quickly;
Making sure that the entire semi-truck is visible in your rearview mirror before pulling in front of it.
Taking these steps can significantly reduce a person's chances of being involved in a collision with a commercial vehicle.
Stay Focused
Staying focused while driving is of the utmost importance, especially when driving near commercial vehicles. This means that you should avoid distractions, like using your cell phone or GPS device, which makes it more likely that you will be able to react more quickly to unexpected hazards, like a suddenly blown tire.
Contact an Attorney After a Truck Accident
At Levinson Law, P.C., our dedicated Tulsa truck accident lawyers have helped many accident victims obtain the compensation they deserve. For an evaluation of your own case and legal options, please call us at 918-492-4433 today.