Commercial Truck Safety Violations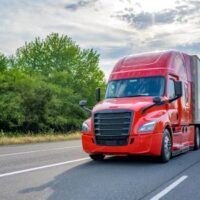 Commercial trucks experience a lot more wear and tear than the average vehicle, partly because they are so much heavier than other cars, but also because they travel thousands of miles, sometimes in a single trip. As a result, commercial vehicles tend to need a lot more maintenance, for which trucking companies are responsible. Unfortunately, many companies fail to inspect their vehicles regularly, or to make necessary repairs. To help ensure that only safe trucks are making their way onto our roads, federal regulators authorize random road checks, where these trucks can be examined for faulty parts or disrepair.
Oklahoma's Roadside Inspection Program 
In Oklahoma, state troopers are specifically authorized to conduct roadside inspections of large commercial vehicles. These roadside inspectors can assess a vehicle's compliance with size and weight rules as well as other safety regulations. There are a few different levels of roadside inspections, including:
Level I, or the North American Standard Inspection, which includes an assessment of the driver's license and record, as well as compliance with hours of service rules, and an evaluation of the truck's brake and exhaust systems, coupling devices, frame, lighting devices, cargo securement, suspension, tires, and the steering mechanism;
Level II, or the Walk-Around Driver/Vehicle Inspection, which includes the same checks as the Level I inspection, but only on those parts of the vehicle that don't require a person to physically get under the vehicle;
Level III, or the Driver/Credential Inspection, which require an examination of the driver's license, his or her Skill Performance Evaluation Certificate, the driver's record of duty status, and his or her compliance with hours of service rules;
Level IV, or the Special Inspection, which includes a one-time examination of a specific item, usually to refute or verify a suspected trend;
Level V, or a Vehicle-Only Inspection, which includes all of the inspection items of a Level I inspection, but can be conducted without a driver present; and
Level VI, or the North American Standard Inspection for Transuranic Waste and Highway Route Controlled Quantities of Radioactive Material, which is conducted only in cases involving select radiological shipments.
All of these inspections help officials uncover dangerous safety violations that could endanger other road users. Some of the most common mechanical violations involve issues with tires, lights, and brakes, as well as poorly secured cargo. Drivers can also receive violation notices for driving with revoked licenses, keeping faulty logs, or violating hours of service rules.
The Legal Consequences of Safety Violations 
Commercial vehicles with maintenance problems could be unsafe to drive. For instance, a truck with faulty brakes is a lot harder to stop, making it much more likely that it will be involved in a truck accident. Similarly, cargo that isn't properly secured could fall off the truck entirely, causing road blockages and multiple collisions. Truck drivers who don't take mandatory rest breaks are more at risk of suffering from fatigue and lapses in concentration, all of which can lead to reckless moving violations. If investigators discover that one of these issues caused or contributed to a crash, then the truck's driver and employers could face civil liability for the victim's losses.
Speak with an Experienced Tulsa Truck Accident Lawyer About Your Case 
A history of failed safety violations could end up being relevant to your truck accident case. If you were hurt in such a collision, please reach out to the dedicated Tulsa truck accident lawyers at Levinson Law, P.C. to learn more about how a failed safety inspection could affect your claim.
Sources:
 ok.gov/ohpcmve/Programs_and_Services/Commercial_Vehicle_Roadside_Inspections/
epa.gov/sips-ok/oklahoma-sip-oac-595-chapter-20-inspection-and-equipment-motor-vehicles