Common Motorcycle Accident Injuries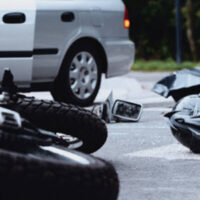 The long stretches of highway that criss-cross Oklahoma make the state a popular destination for motorcyclists. Riding motorcycles, however, does not come without certain risks. For instance, because they are so much smaller than standard passenger vehicles, motorcycles are harder to see, easily falling within the boundaries of a blind spot. They also offer far less protection to riders, who are almost always thrown from their motorcycles in the event of an accident. Unfortunately, these issues make it much more likely that a motorcycle rider will sustain an injury if involved in an accident.
Lower Leg Injuries 
Of the many types of injuries that motorcycle accident victims can sustain, lower leg injuries are one of the most common and include everything from fractures to lacerations. Breaking bones in the lower leg occur often. In fact, injuries to the tibia and fibula, which are located in the lower leg are thought to account for almost 95 percent of motorcycle accident leg injuries. Thigh and knee fractures can also occur, as can hip dislocations. While wearing protective gear like knee pads and motorcycle boots can help lower the chances of a catastrophic leg injury, they are no guarantee of safety.
Internal Injuries 
Because of their lack of protection from impact and their position on the motorcycle, motorcycle riders are much more likely to sustain injuries to the torso and chest. Unfortunately, this is where many of our most important organs are housed, so an injury to these areas can have devastating consequences, resulting in internal bleeding and organ damage. Internal injuries commonly sustained by motorcycle accident victims include:
Broken ribs and fractured sternums, which, besides limiting mobility and being extremely painful, can also contribute to other injuries, such as the laceration of nearby organs;
Pulmonary contusions, which occur when blunt force trauma to the blood vessels causes blood to leak into the lungs;
Punctured lungs, which can result in the collapse of one or both lungs and eventual respiratory failure; and
Blunt cardiac trauma, which occurs when the heart itself is bruised or ruptured.
Internal injuries are very dangerous because they don't often reveal themselves outwardly, which is why it's so important for accident victims to get checked out by a doctor as soon as possible after their crashes.
Head Trauma 
Head trauma is one of the deadliest injuries that a motorcycle accident victim can sustain. These injuries can range in severity from mild concussions and whiplash to skull fractures and brain hemorrhages. Fortunately, there are steps that motorcyclists can take to lower their chances of suffering such an injury. Wearing a helmet, for instance, has been shown to lower the risk of head trauma in motorcycle accident victims by almost 70 percent.
Helping Accident Victims Throughout Northeastern Oklahoma 
If you or a loved one suffered a catastrophic motorcycle accident injury, our dedicated legal team is here to help. Call 918-492-4433 to learn more about how the experienced and compassionate Tulsa motorcycle accident lawyers at Levinson Law, P.C. could assist with your case. We are standing by and eager to get started on your case as soon as possible.
Sources: 
one.nhtsa.gov/people/INJURY/PEDBIMOT/MOTORCYCLE/motorcycle03/index.htm
iii.org/fact-statistic/facts-statistics-motorcycle-crashes