Unsecured Cargo Loads Can Cause Truck Accidents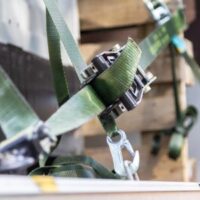 We've all seen debris on the road that clearly fell out of the back of a truck. Whether it is lumber, a mattress, or cardboard boxes, these items pose a very real risk of injury to road users. A recent study conducted by AAA revealed that dangerous road debris had caused 200,000 crashes in a recent four year period, more than 39,000 injuries, and 500 fatalities. Frustratingly, many of these injuries could have been prevented, as around two-thirds of the crashes were caused by a failure to properly secure truck cargo.
Types of Unsecured Cargo 
Commercial trucks are responsible for carrying everything from furniture and construction equipment to livestock and produce. Any of these items, if not properly secured, could end up falling into the road and causing an accident. This includes:
Raw materials, such as logs and sheet metal;
Building materials, including dressed lumber, concrete pipes, and metal coils;
Manufacturing materials, such as paper rolls;
Household goods, like furniture;
Car parts, such as tires;
Construction equipment, including heavy vehicles and machinery; and
Vehicles.
Identifying the type of cargo that caused an accident is a critical component of filing a truck accident claim. For instance, when a log truck overturns, it is important to discover who owned the truck, as well as the cargo when attempting to recover compensation.
Types of Unsecured Cargo Accidents 
Unsecured cargo accidents can be prevented through the use of proper loading and safety measures. Unfortunately, the unrealistic deadlines imposed on many drivers by shipping companies mean that these measures often go ignored. This in turn, can result in cargo actually falling into the road or making the vehicle itself unsafe, as loose cargo can shift around in a truck's trailer, making it much more likely that it will roll over. An unsecured load can also swing against the trailer of the truck during a turn, causing it to jackknife. Falling cargo is another very real risk when a driver fails to properly secure a load. Large, heavy materials can be deadly if they fall into the road or onto a vehicle itself. Truck cargo can also act as a dangerous obstacle, blocking multiple lanes of traffic and causing vehicles to try and swerve out of the way.
Liable Parties 
An unsecured load could be the result of a failure to properly balance cargo during loading, or the use of the wrong number or type of tie-downs. Other factors that could contribute to an unsecured load include wear and tear on the ropes, straps, and chains used to secure the load, a driver's failure to check the cargo at regular intervals, and violating load restrictions. Drivers and trucking companies that engage in this kind of negligence can and should be held liable for resulting damages.
Schedule a Free Consultation Today 
At Levinson Law, our experienced Tulsa truck accident lawyers have handled a wide range of accidents involving road debris and unsecured loads. If you were injured as a result of a trucking company's negligence, please reach out to our dedicated legal team at 918-492-4433 for help.
Sources: 
newyork.cbslocal.com/2016/08/11/aaa-debris-dangers-study/
fmcsa.dot.gov/regulations/cargo-securement/cargo-securement-rules