Flatbed Truck Accidents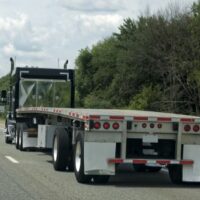 Thousands of truck accidents occur on U.S. roadways every year. These crashes involve a wide range of trucks, including not only semi-trucks, but also tanker and flatbed trucks. Collisions with any of these kinds of trucks almost always have devastating results, but crashes with flatbed trucks, which are some of the largest commercial vehicles and are often required to carry unsafe cargo, tend to be particularly dangerous.
What are Flatbed Trucks?
Flatbed trucks are a type of commercial vehicle with flat trailers and no roof or sides. This construction makes them particularly useful in transporting oddly-shaped or oversized cargo that won't fit into regular shipping containers. Examples of cargo that these trucks are tasked with carrying include:
Building materials, such as scaffolding, bricks, lumber, and steel beams;
Construction site debris, like scrap metal;
Flexible bulk containers, which are often used to ship dry cargo, like sand, grain, seeds, and fertilizer;
Heavy machinery, such as farming equipment, construction tools, and military vehicles;
Lumber and logs; and
Tire bales, which are made up of broken down rubber tires that are compressed and strapped together with wire, and are used when building retaining walls and in other construction projects.
While critical to the transportation industry, flatbed trucks can pose dangers to others on the road because the materials they carry can become dislodged in the event of a collision, striking other vehicles and causing significant property damage and serious injuries.
Liability for Flatbed Truck Accidents
Like any other type of vehicle crash, collisions involving flatbed trucks occur for a lot of different reasons, but most can be attributed to:
A failure to properly secure cargo with steel chains, nylon straps, tie-downs and wedges, which can end up causing a load to slide off the road and into the street;
A lack of experience or training on the part of the driver, who may not know how to ensure that the load is balanced correctly or that it complies with height and weight requirements;
Distracted, fatigued, or impaired driving;
Mechanical failure causing the truck to stop suddenly or overturn; or
Obstructed views that can make it difficult for a driver to see and avoid a hazard or comply with a traffic signal.
This type of negligence can open the at-fault party up to liability if it results in a collision or rollover accident. Liable parties could include everyone from the driver of the flatbed truck or the company that employed him or her, to the employees responsible for securing the cargo or other drivers on the road who contributed to the crash. Unfortunately, determining who was liable for these kinds of collisions can be difficult, which is why it's so important for accident victims to speak with an attorney who can help them build a strong case.
Tulsa Truck Accident Lawyers
If you were hurt in a truck accident, you could be entitled to compensation for your medical bills and lost wages. To learn more about your own legal options following a crash, please call the dedicated Tulsa truck accident lawyers at Levinson Law, P.C. today. You can reach a member of our legal team by calling 918-492-4433 or by sending us an online message.
Sources:
abc7.com/archive/8856341/
fmcsa.dot.gov/regulations/cargo-securement/cargo-securement-rules