What Are The Most Dangerous Oilfield Jobs?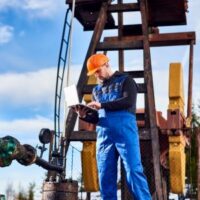 There are a lot of dangerous jobs on oilfields, but some are more hazardous than others. Because this is such a high-risk industry, oilfield employees should familiarize themselves with their legal options when it comes to recovery after a workplace accident. Read on to learn more about some of the most dangerous oilfield jobs.
Derrick Operators
Derrick operators are tasked with building, operating, and maintaining oil derricks, which are a type of support structure that holds the drilling equipment in place, raises and lowers drilling tools into oil wells, and provides a place to insert and remove piping. Oil derricks are specifically designed to be tall enough to allow workers to add additional drill pipe to the apparatus as drilling progresses. This leaves derrick operators working at great heights and with heavy, dangerous equipment, which in turn, increases their chance of injury. Derrick operators must also work long shifts in inclement weather, like extreme heat and freezing cold.
Roustabouts
The position of roustabout, or roughneck, is another of the most dangerous oilfield professions, as these individuals handle extremely labor-intensive tasks, like drilling, removing hazards from the work site, and transporting cargo and materials. This work is physically demanding and the hours are typically long. Besides the risk of being injured by equipment, these oilfield workers often suffer injuries caused by overuse.
Pipeline Walkers, Pipelayers, and Pipefitters
According to the Pipeline and Hazardous Materials Safety Administration (PHMSA), there are almost three million miles of pipeline for transporting liquid petroleum and natural gas in the U.S. Unfortunately, many of these pipes were laid decades ago and have become corroded and degraded over time. This puts anyone who works closely with these pipelines at risk of injury if the pipes leak or burst.
Truck Drivers
Truck accidents are the leading cause of injury and death for oilfield workers. This is largely due to the longer shifts that these employees are expected to work. The fatigue and exhaustion from being on duty for long hours can result in collisions, either on the worksite, or on freeways when transporting cargo or equipment to or from an oilfield. The vehicles themselves are extremely large, often weighing upwards of 80,000 pounds. Maneuvering such massive vehicles in an  oilfield can be difficult, as the spaces between oil wells are often very small. Oilfields are also littered with dangerous equipment and heavy machinery that truck drivers must navigate, all while driving on less than ideal terrain, such as gravel, dirt, and mud.
Compensation for Injured Oilfield Workers
Oilfield workers who are hurt on-the-job are often entitled to compensation for their injury-related medical bills and lost wages. Unfortunately, recovering damages from oil and gas companies can be difficult, as these businesses are often unwilling to admit liability for accidents. You do not, however, have to go up against these companies on your own, so if you or a loved one were hurt while working on an oilfield, don't hesitate to reach out to the dedicated Tulsa oilfield accident lawyers at Levinson Law, P.C. for help.
Sources:
phmsa.dot.gov/faqs/general-pipeline-faqs
cdc.gov/niosh/motorvehicle/resources/crashdata/facts.html