Hazmat Truck Accidents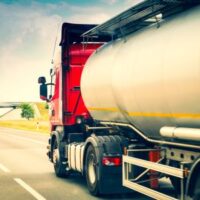 The cargo being carried by a semi-truck won't always affect the outcome of an accident claim where negligence was a factor. Injury claims can, however, end up being more complex in situations where the truck in question was carrying hazardous materials. Read on to learn more about how these kinds of accidents differ from other truck crashes.
Types of Hazardous Materials Transported by Truck 
Trucks, besides being required to carry everything from livestock to consumer products, are also often used to transport more dangerous materials, such as:
Explosives, or anything that could result in an explosion;
Flammable and non-flammable compressed gasses;
Flammable liquids, like gasoline, motor oil, ethanol, or diesel and jet fuel;
Flammable solids and combustible materials, such as sulfur, magnesium, and activated charcoal;
Oxidizers, organic peroxides, and chemical compounds that enhance burning;
Toxic materials and infectious substances, like rat poison and pathogens;
Radioactive materials;
Corrosive substances, including strong acid or base materials that burn or corrode quickly; and
Miscellaneous items, such as lithium batteries or dry ice.
Trucking companies are required to follow specific federal rules when transporting these kinds of dangerous cargo. Unfortunately, not all companies comply with these regulations, which puts truck drivers and other road users at risk. Even when a company does follow the rules regarding loading and handling, an accident could result in a spill and exposure to anyone nearby.
Hazmat Truck Accidents Can Result in More Serious Injuries 
Truck accidents usually result in serious blunt force injuries, like traumatic brain injuries, amputation, and internal injuries. The injuries following a hazmat truck accident, on the other hand, could be completely different. For instance, a truck carrying gasoline or propane could catch fire if those substances ignite, causing explosions and devastating burns. Another danger associated with the transportation of gaseous toxins is that in the event of a collision, those gasses could become airborne. Exposure to toxic gasses can lead to everything from skin irritation to long-term respiratory conditions.
More Potentially Liable Parties
 Another unique aspect of hazmat truck accidents is that these kinds of crashes often involve multiple liable parties. This is because hazmat truck drivers are subject to more federal rules than other truck drivers. The former, for instance, require more training and have to obtain additional certifications before they can start transporting hazardous cargo. Trucks that carry these kinds of substances are also barred from driving on certain roads, while the companies responsible for loading must abide by stricter requirements. The companies responsible for shipping hazardous materials must also provide trucking companies and drivers with adequate information about the nature of the products. These requirements and increased level of scrutiny for hazmat trucks mean that it is much more likely that more than one party's negligence contributed to a crash.
Tulsa Truck Accident Attorneys
 While hazmat trucks are required to carry larger insurance policies, accident victims may still find themselves facing an uphill battle when it comes to recovering maximum compensation. If you were injured in an accident with a hazmat truck or another type of commercial vehicle, call Levinson Law, P.C. at 918-492-4433 and learn more about your legal options from one of our dedicated Tulsa truck accident lawyers today.
Sources: 
fmcsa.dot.gov/regulations/enforcement/nine-classes-hazardous-materials-yellow-visor-card
fmcsa.dot.gov/regulations/hazardous-materials/how-comply-federal-hazardous-materials-regulations