Hit And Run Motorcycle Accidents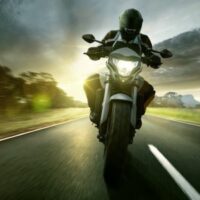 Because motorcycles lack many of the protections of enclosed passenger vehicles, motorcyclists are generally much more likely to sustain serious injuries in the event of a collision. This makes hit and run motorcycle accidents particularly problematic, as accident victims often have no legal recourse if they are unable to identify the at-fault driver who caused the crash.
Why Hit and Run Accidents Occur in Oklahoma
Most of us wouldn't even think of fleeing the scene of a car crash, especially one involving a badly injured motorcyclist. Unfortunately, this does happen a lot more than most people realize often because the at-fault driver was:
Driving with a suspended or revoked license, which is a misdemeanor criminal offense for which guilty parties could end up spending time in jail;
Driving without minimum insurance coverage, which is also a misdemeanor offense that is punishable by fines and license suspension;
Driving under the influence of drugs or alcohol and if apprehended, would face DUI or DWI charges;
Driving with illegal contraband, such as drugs or weapons and so flees the scene to avoid criminal charges of possession and transporting illegal contraband; or
Driving with an outstanding arrest warrant and flees in order to avoid arrest.
In many cases, an at-fault driver may know that he or she caused the accident and wish to avoid liability for the victim's injuries. Fortunately, just because a driver flees the scene of an accident doesn't mean that he or she can't be identified in other ways.
Duty to Stop Laws in Oklahoma
It's actually illegal in Oklahoma to flee the scene of an accident if the crash resulted in property damage, bodily injury, or death. Instead, if the car or motorcycle was occupied, drivers are required to stop and remain at the scene, call law enforcement if there are any injuries, give their contact information to the other parties involved in the crash, render reasonable assistance to accident victims, and submit to drug and alcohol testing as soon as possible after the crash. If, on the other hand, the vehicle was unattended, the at-fault driver must locate the owner and notify him or her of the crash, or if this isn't possible, leave a written notice with the driver's contact information. Motorists who fail to comply with these laws could face criminal charges.
Paying for Your Injuries
Motorcyclists who were injured by hit and run drivers may find themselves facing an uphill battle when it comes to covering their medical bills. In these cases, if the driver cannot be identified using eyewitness testimony or video footage, then the injured party may need to file a claim against his or her own insurance provider. A Medical Payments policy, for instance, should cover expenses related to a motorcyclist's injuries regardless of fault, while uninsured motorist coverage should also help pay for these kinds of losses.
Were You Hurt in a Hit and Run Motorcycle Accident?
The dedicated Tulsa motorcycle accident lawyers at Levinson Law, P.C. are prepared to handle every aspect of your hit and run case, while you focus on your health. Call us at 918-492-4433 to set up a free consultation today.
Sources:
kfor.com/news/local/okc-family-wants-more-charges-brought-on-a-man-that-allegedly-caused-a-deadly-crash/
oksenate.gov/sites/default/files/2019-12/os47.pdf