How Can I Get My Medical Bills Paid After A Motorcycle Crash In Oklahoma?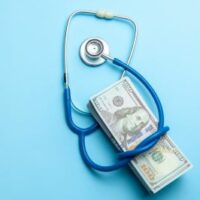 Medical expenses incurred after a motorcycle accident are often extremely high, as the injuries sustained in these types of collisions (for the rider) are rarely minor. If you were involved in such an accident and your medical bills are piling up, filing a personal injury lawsuit could help you recover the compensation you need to cover your current expenses and your future costs. Remember, while your financial situation may seem bleak after a motorcycle accident, you are not without options.
Filing an Insurance Claim
In Oklahoma, a person can only legally ride a motorcycle if he or she obtains liability insurance of at least:
$25,000 for bodily injury per person;
$50,000 for bodily injury per accident; and
$25,000 for property damage per accident.
In addition to this coverage, many motorcyclists also purchase other policies to cover their losses in the event of a collision, such as:
Collision coverage;
Uninsured/underinsured motorist coverage;
Bodily injury coverage; and
Medical payment coverage.
If you were injured in a motorcycle accident, you can file a claim under any of these policies, or with the at-fault party's insurer.  Your insurance company will, however, only pay out your claim up to a policy's limits, which could leave you short of the funds you actually need to pay off your losses.
Filing a Personal Injury Lawsuit
Oklahoma is a fault-based auto liability state, which means that negligent and reckless drivers can be held personally liable for causing accidents. As a result, injured parties don't necessarily have to go through their own insurers to recover their losses, but can choose to file a personal injury claim against the at-fault driver in court. This will require going through the at-fault party's insurance company, at least initially. If negotiations fail, then the claimant can file a lawsuit in court, where he or she will need to submit evidence of fault and convince a judge or jury of the other driver's negligence. If successful, injured plaintiffs often stand to gain more than they would have recovered if they had only filed an insurance claim. Potential damages include reimbursement for past and future medical expenses, lost wages and benefits, permanent disability, property damage, emotional distress, and pain and suffering. Going to court can, however, be expensive and time-consuming, so it is important for accident victims to work with an attorney who can help the process go as smoothly as possible.
Call Our Tulsa Motorcycle Accident Attorneys Today
At Levinson Law, P.C., we understand how quickly medical bills can pile up for accident victims, especially motorcyclists, whose injuries are often catastrophic. If you're struggling to cover your bills and weren't at fault for your accident, feel free to talk to one of our experienced and compassionate Tulsa motorcycle accident lawyers today. We can review your insurance policies and explain your legal options moving forward. Contact us at 918-492-4433 today to set up a free case review. You can also reach out to a member of our dedicated legal team via online message.
Sources:
oid.ok.gov/auto-insurance-common-myths/
oksenate.gov/sites/default/files/2019-12/os23.pdf