Tips for Avoiding a Motorcycle Accident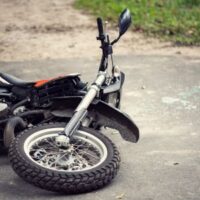 Unfortunately, riding a motorcycle does come with a lot of dangers, including the risk of a collision with a much larger passenger vehicle. The injuries sustained in these types of crashes are almost always serious and often reach the level of catastrophic for the rider. With so much at stake, it is extremely important for motorcyclists throughout Oklahoma to take precautionary measures to try and avoid being involved in such a crash.
Wear the Right Gear 
Wearing the right protective gear is one of the best ways that a rider can prevent serious injury in the event of an accident. This can be an unpleasant choice, especially during the summer months, but the padded gear and helmet could make all the difference in whether a rider suffers a devastating injury. Riders should consider investing in a helmet, heavy-duty jacket and pants, gloves, boots, and eye protection. In fact, wearing a helmet is legally required in Oklahoma for motorists under the age of 18 years old.
Know the Laws 
It's also important for motorcyclists to be very familiar with state and local traffic laws. This includes not only using one's blinker (or hand signals), leaving enough distance between vehicles, and complying with the speed limit, but also keeping an eye out for construction zones and speed reductions.
Check the Weather 
Remaining aware of one's surroundings is absolutely critical when attempting to drive safely. This is doubly true for motorcycle riders, who are at the mercy of poor road and weather conditions. To avoid getting stuck in a storm, driving on wet pavement, or hitting a pothole, motorcyclists should be sure not only to check the weather before they hit the road, but also to remain vigilant for signs of road debris or other hazards.
Check Your Tires and Brakes 
Motorcycles are already at a disadvantage when compared to passenger vehicles, as they only have two wheels. This means that making sure that a motorcycle's tires have the correct air pressure and traction quality is of the utmost importance for rider safety. Similarly, it's a good idea for motorcyclists to check their brakes, ensuring that they haven't become worn or require replacement or repair. Taking this kind of precautionary step, while it may feel unnecessary or annoying, could end up saving a rider's life.
Were You Injured in a Motorcycle Accident in Oklahoma? 
Unfortunately, being a safe driver (or motorcyclist) doesn't guarantee that a person won't end up injured in an accident. If you were hurt in a motorcycle crash because of someone else's negligence, the at-fault party can and should be held accountable. For a free assessment of your own case, don't hesitate to reach out to the experienced Tulsa motorcycle accident lawyers at Levinson Law, P.C. You can reach us by calling 918-492-4433 or by sending us an online message. Call or contact us online to get started on your case today.
Sources: 
wxow.com/news/health/safety-tips-to-avoid-motorcycle-accidents-this-summer/article_e2349dcf-9d51-5c35-af87-39c9d1e90f77.html
weny.com/story/49339982/tips-for-motorcyclists-to-stay-safe-on-the-road