Wearing a Helmet Can Reduce Motorcycle Accident Injuries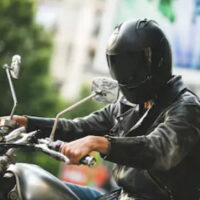 In Oklahoma, only motorcyclists under the age of 18 years old are legally required to wear a helmet when riding. There are, however, a lot of reasons why riders should consider wearing a helmet even when they aren't legally required to do so. For instance, wearing a helmet reduces the risk of serious injury or death by around 37 percent for riders and 41 percent for passengers. Furthermore, the National Highway Traffic Safety Administration (NHTSA) estimates that motorcyclists who don't wear helmets are three times more likely to suffer a traumatic brain injury (TBI) than those who do.
Types of Motorcycle Helmets 
Motorcyclists who decide to start wearing helmets actually have a lot of different options, including:
Full-face helmets, which, as they cover a person's entire face, offer maximum protection and also come with built-in visors and noise reduction benefits;
Open-face helmets, which only cover just above a person's eyes, providing greater visibility of one's surroundings, but more limited protection in the event of a crash;
Half helmets, which provide more minimal coverage, but are still effective in preventing head trauma; and
Off-road helmets, which prioritize maximum protection over comfort features, such as integrated visors and ventilation systems.
Any form of helmet is preferable to not wearing a helmet at all for a motorcyclist, who is much more at risk of blunt force trauma injuries, like TBIs, in the event of a collision.
Helmets Don't Obstruct Peripheral Vision or Hearing 
Many riders who don't wear helmets claim that doing so will obstruct their peripheral vision. This, however, isn't true. A person's normal peripheral vision ranges between 200 and 220 degrees. The Department of Transportation (DOT) standard used by helmet manufacturers requires that helmets provide wearers with a visual field of range of at least 210 degrees. This is generally considered to be enough for motorcyclists to ride safely, with one recent study revealing that 90 percent of motorcycle accidents happen within a range of 160 degrees and the remainder mostly fall under the category of rear-end collisions.
Another argument often raised in defense of not wearing a helmet is that they interfere with critical hearing. Again, this is a myth, as any sound that is loud enough to be heard over the wind and the sound of a motorcycle's engine can be heard inside a helmet. While they reduce the loudness of other vehicles and the motorcycle itself, they do so by an equal amount, so the ability to hear one noise over the other isn't altered.
Reach Out to Our Experienced Tulsa Motorcycle Accident Attorneys 
When another motorist's carelessness causes you to crash, you have the right to pursue compensation, whether or not you were wearing a helmet (although this could affect your level of recovery). If you need an advocate after your motorcycle accident, please call Levinson Law, P.C. and speak with one of our experienced Tulsa motorcycle accident lawyers today. You can set up an initial consultation by calling 918-492-4433 or by completing one of our brief online contact forms.
Sources: 
ohso.ok.gov/laws#:~:text=A: Motorcycles must be equipped,47 O.S § 12-609
oklahoma.gov/content/dam/ok/en/health/health2/documents/motorcycle-helmet-qanda-english-2012.pdf