Truck Accident Rates Increase At The End Of The Year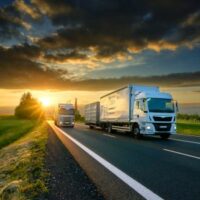 The number of truck accidents occurring on U.S. roadways has steadily been on the rise in recent decades. These collisions occur at all hours of the day, on weekdays and weekends, and during every month of the year. There are, however, certain times when truck accidents are more likely to occur. The later months of the year, including October through December generally fall under this category.
Holiday Deliveries
There are a number of reasons why truck accidents are more likely to occur in the autumn and winter months, one of which is that more trucks are on the road making holiday deliveries. Commercial vehicles are responsible for the majority of interstate shipping in the U.S., which means that there are always a lot of large trucks on the road. The number of deliveries being made, however, tends to increase significantly in November and December, when many families celebrate the holidays and begin ordering gifts, food, and other consumer products. More trucks on the road, at all hours of the day and night, means that it is much more likely that someone will be involved in a truck accident.
Weather Changes
Autumn also comes with a significant weather shift across the country. Colder temperatures are more widespread, which in turn increases the likelihood of slick or icy roads. Even states that don't see a lot of snow can expect lower temperatures, heavy rain, and fog, all of which can reduce visibility and make driving much more dangerous. Some states, like Oklahoma, also see their fair share of early snowstorms, which can leave motorists unprepared for slick roads. It's also important to note that it gets darker much faster in the latter months of the year, thereby increasing the chances of being involved in a collision, especially during inclement weather when visibility is already low.
Holiday Travel
Drivers of commercial trucks aren't the only motorists who spend more time on the road during the autumn and winter months. Overall, car accidents tend to increase during this part of the year, simply because there are more people on the roads traveling to visit loved ones. Furthermore, drivers are often fatigued or stressed during the holidays and may be traveling hundreds of miles, increasing their chances of being involved in a crash. Drunk driving accidents also increase in the days leading up to the holidays, while even home decor and lights can be distracting to passing drivers. All of these things can affect truck drivers as much as any other motorist. Unfortunately, the consequences of a truck accident are almost always more severe, resulting in devastating injuries and significant property damage.
Tulsa Truck Accident Lawyers
The autumn and winter months can be a dangerous time of year for motorists. Trust the dedicated Tulsa truck accident lawyers at Levinson Law, P.C. to represent you in the event of a serious crash. Call us at 918-492-4433 or fill out one of our short online contact forms to get started on your case today.
Sources:
iihs.org/topics/fatality-statistics/detail/large-trucks
fmcsa.dot.gov/safety/data-and-statistics/large-truck-and-bus-crash-fact