Oilfield Crane Accidents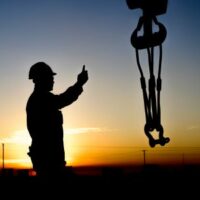 Cranes play a critical role in the successful operation of Oklahoma oilfield sites, lifting and moving heavy equipment and supplies, as well as extracting oil from subterranean sources. Oilfield cranes are complicated to run and extremely dangerous, so even a minor mishap could result in a devastating accident.
How Cranes Work
Extracting and transporting oil and gas requires a lot of heavy equipment, including cranes, which are used to transport materials from one part of a site to another, to lower and raise pipes in the ground, and to move personnel. Cranes are specifically designed to fulfill these tasks, with a crane boom, or arm, that is either fixed or hydraulic, bearing most of the weight when positioning a load. The length of this arm will largely dictate a crane's maximum reach, which at oilfields often reaches hundreds of feet. Cranes can be placed on tracks, wheels, floats, or concrete foundations. Cranes also have turntables, located near the top of the tower and which allow them to rotate 360 degrees. Counterweights are used to balance cranes by offsetting the load and are stationed across from the boom. The pulley system that allows cranes to lift and lower items are made of sheaves and wire ropes, while the lifting mechanism itself, or the hoist, is located on the crane's horizontal beam and is used to lift and lower loads vertically. A problem with any part of this operation could result in catastrophic injuries for nearby oilfield workers.
Causes of Crane Accidents
Crane accidents can occur in a lot of different ways, but most can be attributed to:
Electrocutions, which can happen when the crane boom or cable makes contact with an overhead power line;
Crane collapse, which can occur if the crane is overloaded or is placed on an unstable or uneven surface;
Being struck by a crane boom when it is lowering or raising materials; or
Being struck by a crane load, which can occur when a load comes loose from the rigging, or while being loaded or unloaded, or when a crane turns or tilts unexpectedly.
Whatever the cause of the crane accident, the results for oilfield workers are almost always devastating. Injuries are often catastrophic and include everything from amputations and head trauma to internal injuries and spinal cord damage.
Speak with an Experienced Tulsa Oilfield Accident Lawyer
The oil and gas industry can be a dangerous one for employees, especially those who work on oilfields and must operate heavy machinery, use dangerous equipment, and work long hours. Fortunately, those who are hurt on the job are not without legal recourse, but could recover compensation for their medical bills, lost wages, and disability. Pursuing this type of claim can, however, be complicated, so if you or a loved one were hurt while working on an oilfield, you should think about reaching out to an experienced Tulsa oilfield accident attorney for help. To set up a free consultation with a member of our own dedicated legal team, call Levinson Law, P.C. at 918-492-4433 today.
Sources:
seattletimes.com/nation-world/osha-north-dakota-oil-worker-killed-in-crane-accident/
newswest9.com/article/news/one-killed-in-oil-field-accident/513-289d3719-daa2-4a1f-a667-0c14242e4041