What Are Override Accidents?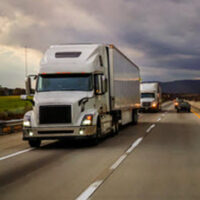 Any type of collision with a commercial vehicle is dangerous, simply because they are so much heavier and larger than passenger vehicles. Rear-end collisions with these vehicles, however, are particularly devastating, especially when the truck rear-ends the smaller car. Because the clearance on trucks is so high, smaller cars can actually fit underneath them, so a truck's momentum could technically result in its bumper riding over the back of the passenger car. Due to the overwhelming weight and size of semi-trucks and other commercial vehicles, override accidents often result in catastrophic injury and even wrongful death for the occupants of the smaller car.
Common Reasons for Override Truck Accidents
Rear-end crashes, and override collisions in particular, can happen for a variety of reasons, most of which involve driver error, such as:
Following too closely, which is always dangerous, but is especially perilous when the person following too closely is driving an 80,000 pound truck;
Falling asleep at the wheel, which happens at an alarming rate amongst truck drivers, who are often forced to meet unreasonable deadlines and to drive through the night and into the early morning hours;
Brake failure, which affects commercial vehicles even more than standard-sized cars, simply because so much more wear and tear is placed on the brake systems of trucks;
Failing to use proper lights, which can be especially problematic at night or in foggy or inclement weather;
Tire blowouts, which also tend to occur more often on trucks, which travel a lot more miles than the average car and also carry significantly more weight;
Improper lane changes, which if undertaken by a truck driver, can result in the rear-ending of a car that was already in the other lane; and
Speeding, which generally gives drivers less time to react and avoid a potential collision, but is even more dangerous for truck drivers who already take a lot longer to come to a complete stop.
This kind of careless conduct can be exacerbated by external factors, like weather conditions and congested roadways. Whatever the cause of an override accident, the injuries are usually catastrophic, making it especially important for the victims or their family members to seek compensation from the at-fault parties who were responsible for the crash.
Liability for Override Accidents
The ability of an injured party to recover compensation after an override accident will largely be dictated by the cause of the accident. If, for instance, the truck driver's negligence was the cause of the crash, then he or she, as well as the trucking company that employed the driver, could be required to compensate the victim. Similarly, if the brakes on the truck were poorly maintained or hadn't been inspected, the trucking company could bear responsibility for the crash. In the event that the brakes weren't improperly maintained, but were somehow defective, then the manufacturer of that part could also be held liable for the accident and its resulting injuries.
Compensation for Truck Accident Injuries
Holding a truck driver or trucking company accountable for an override accident can be difficult, as these entities are usually well-funded and well-represented. Don't feel like you have to undertake this endeavor alone. Call the dedicated Tulsa truck accident lawyers at Levinson Law, P.C. for help.
Sources:
nhtsa.gov/document/heavy-vehicle-crash-data-collection-and-analysis-characterize-rear-and-side-underride-and
fox23.com/news/emergency-crews-respond-crash-highway-69-near-pryor-mid-america-industrial-park/AKHG45ADT5FM5B2WMY5GV4EREY/