Why Left Turns are So Dangerous for Motorcyclists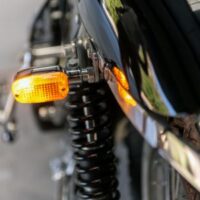 Riding a motorcycle poses special risks, simply due to the exposed nature of the rider. Certain actions, however, are even more perilous for motorcyclists, one of which is turning left. Whether attempting to legally turn left at, or traveling straight through an intersection (while other vehicles turn left) motorcyclists are much more likely to be involved in a collision due to their lack of visibility. Motorists also tend to have a much harder time accurately assessing the speed at which oncoming motorcyclists are traveling. Whatever the cause, the results of left-turn accidents are often devastating for the motorcyclist, who could end up suffering life-altering injuries.
How Common are Left Turn Accidents? 
Turning left poses a lot of risks that simply don't apply when turning right. Making a left-hand turn, for instance, requires a driver to cross the path of vehicles traveling in the opposing direction. Drivers turning left must also keep an eye on their blind spots, to ensure that someone isn't attempting to pass them or hasn't drifted into their lane. Other drivers attempting to cross an intersection from the other direction can also make it extremely challenging for motorists to see around them and know when it is safe to turn. These factors significantly increase the chances of a motorist being involved in a collision while turning left. In fact,  more than 20 percent of all car accidents involve a left turning vehicle.
Left Turn Accidents Cause Serious Injuries 
Unfortunately, left turn accidents are also dangerous. In fact, the National Highway Traffic Safety Administration (NHTSA) estimates that as many as 42 percent of fatal motorcycle crashes involve a vehicle turning left while a motorcycle traveled straight. These kinds of accidents are especially dangerous for motorcyclists, who are much more exposed on the road and don't have the benefit of a large vehicle to absorb some of the force of impact in the event of a collision. This leaves them open to a significant amount of blunt force impact, which in turn can result in serious injuries, such as:
Crushed and broken bones;
Traumatic brain injuries;
Spinal cord injuries;
Lacerations and amputations;
Road rash; and
Internal injuries.
Treating these injuries can be ruinously expensive, as can obtaining ongoing medical care to help accident victims adapt to permanent disability. Fortunately, it is possible to recover compensation for these kinds of losses.
Reach Out to Our Tulsa Motorcycle Accident Lawyers for Help 
Anyone who has recently been injured in a motorcycle accident will be fully aware of the financial, physical, and emotional toll that these crashes can take on victims and their families. One way to help alleviate some of these burdens is to seek financial compensation from the person whose negligence caused the accident in the first place. For help determining whether you could be entitled to compensation for your own motorcycle collision-related losses, call Levinson Law, P.C. at 918-492-4433 and set up a meeting with one of our experienced and compassionate Tulsa motorcycle accident lawyers today.
Sources: 
crashstats.nhtsa.dot.gov/Api/Public/ViewPublication/811366
one.nhtsa.gov/links/GetUpToSpeed/index.html