Blind Spots Can Cause Truck Accidents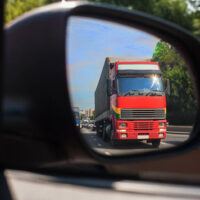 Besides being much larger than the average passenger vehicle, commercial vehicles also have far vaster blind spots. This can make it even more dangerous to share the road with commercial vehicles, which already outweigh most cars by many thousands of pounds. Knowing where these blind spots are on semi-trucks can go a long way towards helping other drivers avoid them.
Commercial Vehicle Blind Spots 
We all know how difficult it can be to see vehicles in our blind spots while driving. For drivers of passenger vehicles, these blind spots are located along the sides of the vehicle, slightly behind the driver and passenger seats. The blind spots on commercial vehicles, however, are much larger and angle out from the truck. There are also more blind spots to contend with, including in the following areas:
Up to 20 feet in front of the truck;
Directly behind the truck for up to 30 feet;
In the lane directly to the left of the truck; and
In the two lanes to the right of the truck.
It is impossible for truck drivers to see vehicles in these areas, which is why blind spot truck accidents are so common. In fact, the Federal Motor Carrier Safety Administration (FMCSA) estimates that as many as one-third of all truck accidents occur in these areas.
Types of Blind Spot Accidents 
Most blind spot truck accidents occur when a truck attempts to change lanes, but the driver doesn't see the smaller vehicle, sideswiping it. However, because trucks are so much taller and heavier than passing vehicles, even a collision that would normally qualify as a relatively minor sideswipe crash could have devastating consequences for the occupants of the smaller car. Blind spot truck accidents can also occur when:
A truck driver rear-ends a vehicle directly in front of the truck, resulting in an override accident, where the larger truck crushes the smaller vehicle;
A truck driver runs another car off the road when changing lanes; or
A truck driver brakes suddenly and is rear-ended by a smaller vehicle, which then slides underneath the truck.
If an injured party can prove that this kind of accident was the result of the truck driver's negligence, then he or she could be entitled to a damages award.
Liability for Blind Spot Truck Accidents 
Truck drivers are specifically trained on how to carefully check their blind spots before turning or merging. Many trucks are also equipped with special technology that can help warn drivers of other cars approaching their blind spots. Unfortunately, not all drivers adhere to these rules or could end up causing a blind spot accident due to:
Driver distraction;
Fatigue; or
Intoxication.
In these cases, a truck's driver and the company that employed him or her could be held liable for the damages suffered by the victim. Compensable losses include medical bills, lost wages, disability, property damage, pain and suffering, and wrongful death.
Call Levinson Law, P.C. for Legal Help Today 
If you were hurt in a truck accident in Oklahoma, please call the dedicated and compassionate Tulsa truck accident lawyers at Levinson Law, P.C. for an evaluation of your legal options. You can set up a meeting with us by calling our office at 918-492-4433 today.
Sources:
 fmcsa.dot.gov/safety/driver-safety/cmv-driving-tips-inadequate-surveillance
fmcsa.dot.gov/regulations/hours-service/interstate-truck-drivers-guide-hours-service-0