U-Turn Motorcycle Accidents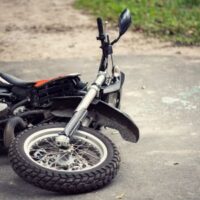 Motorcycle riders are some of the most vulnerable road users, largely because their vehicles are so much smaller than others and lack the protection of a surrounding metal frame. Certain maneuvers increase these dangers even further. U-turns, for example, whether made by a motorcycle or another vehicle present heightened risks for riders. While there are laws on the books to help protect drivers when making a u-turn, many drivers fail to adhere to these rules, leaving motorcycle riders to bear the brunt of the impact in the event of a collision. Read on to learn more about u-turn motorcycle accidents and the legal rights of accident victims to seek compensation for their losses.
Oklahoma U-Turn Laws 
In Oklahoma, drivers are only permitted to make u-turns, whether at an intersection, on a private or public road, or in a driveway if their vehicle is in the proper position and they can make the movement in reasonable safety. Drivers attempting to make a u-turn  must also use their signals if other traffic could be affected by the turn. Even these movements were unlawful in Tulsa up until a few weeks ago, when a city ordinance that banned drivers from making u-turns at any signalized intersections (regardless of whether the driver had a green light) was overturned. This does not, however, mean that drivers can make u-turns whenever they want. They must still have  the proper right of way, meaning a green light or a green arrow to do so. Furthermore, drivers must be able to make the turn in one motion and maintain lane integrity.
Factors Involved in U-Turn Motorcycle Accidents 
Most u-turn accidents can be attributed to driver carelessness, or a failure to notice the smaller motorcycle. In fact, some studies have shown that nearly 70 percent of motorcycle accidents are the result of a driver's failure to see a motorcyclist. Other common causes of these types of accidents include:
Speeding;
Driver distraction;
Failing to yield;
Ignoring a traffic signal; and
Driving under the influence.
This type of negligent driving behavior can have devastating consequences for motorcycle riders who are attempting to legally travel through an intersection, or who are making a legal u-turn. Injuries are often severe and in some tragic cases, could even be deadly.
Liability for U-Turn Motorcycle Accidents 
Who can be held liable for a u-turn motorcycle accident will depend on the facts of the case, including whether either party violated a traffic law. The party who is found in violation of the u-turn law, either because they failed to yield, didn't signal properly, ignored a "No U-Turn" sign or otherwise broke a traffic law, will likely be held liable for the victim's losses. Recoverable damages include reimbursement for accident-related medical bills, lost wages, property damage, and pain and suffering.
Discuss Your Motorcycle Accident Case with a Tulsa Personal Injury Lawyer 
Injuries sustained in u-turn motorcycle accidents can be devastating and result in potentially permanent impairment, making it especially important that accident victims seek financial support from the parties involved. To learn more about your own recovery options, call the experienced Tulsa motorcycle accident lawyers at Levinson Law, P.C. today.
Sources: 
law.justia.com/codes/oklahoma/2014/title-47/section-47-11-604
fox23.com/news/local/tulsa-city-council-votes-to-allow-drivers-to-make-u-turns-at-signalized-intersections/article_ca8eed90-6d08-5470-b6b9-d6d3a9a5c3bd.html