Calculating A Car Accident Settlement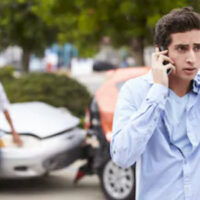 Even relatively minor car crashes can leave victims with mounting medical debt, expensive repair costs, and lost wages, not to mention the anxiety and stress that so often accompany this kind of traumatic event. Fortunately, injured parties can seek compensation for these losses, although how much they can recover will vary depending on a few different factors. If you were recently involved in a car crash and have questions about your own recovery options, please don't hesitate to reach out to our experienced Tulsa auto accident lawyers for help.
Filing a Claim with the At-Fault Driver's Insurer
In Oklahoma, when a driver's carelessness causes a collision, it will be his or her insurer that will be responsible for compensating a victim for related losses. This includes reimbursing the claimant for his or her medical bills, lost wages, and the cost of repairing or replacing a vehicle. Unfortunately, some unscrupulous insurers, in an effort to resolve a case quickly and at less cost, will offer an unfairly low settlement amount right out of the gate. Often, injured parties are tempted to accept this offer out of necessity, or out of fear that they will be forced to take the case to litigation if they refuse to accept it. One of the best ways to ensure that this doesn't happen is to retain an experienced attorney who is well-versed in these kinds of tactics and can give a claimant the best possible chance of negotiating a fair settlement award.
What Factors Could Affect My Settlement?
A number of different factors influence how much a person can expect to receive in a car accident settlement, including:
The type and severity of the claimant's injuries, as revealed through the cost of treatment and rehabilitation, as well as the effects of those injuries on the claimant's employment and personal life;
The severity of the damage sustained by the claimant's car and how much it will cost to repair or replace that vehicle;
The number of people involved in the crash, which will affect how much a person can expect to collect from each party;
Who was primarily at fault for the crash; and
The liability policy limits of the at-fault driver who caused the accident.
Of these factors, the last two often prove the most important in determining how much an insurer will pay for a claimant's injuries. Generally, the more careless a person was in causing a crash, the more an injured party can expect to collect in a settlement, unless the claimant's losses exceed the at-fault party's policy. In these cases, the victim may need to go to court, where he or she can attempt to hold the negligent driver personally liable for the accident.
Here to Help with Your Car Accident Claim
If you were recently involved in a car accident and have questions about negotiating a settlement with the at-fault driver's insurer, please contact one of the experienced Oklahoma auto accident lawyers at Levinson Law, P.C. today. You can reach a member of our legal team at 918-492-4433 or via online message.