Handling Property Damage After An Oklahoma Car Accident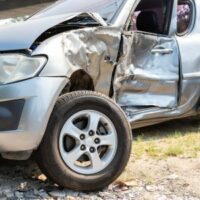 Often, the first thing that car accident victims check for after being in a collision, is whether or not they sustained a physical injury. Initial relief for those who were fortunate enough to escape injury, however, is often followed by despair at the degree of damage to their vehicles. Fortunately, car accident victims are often entitled to compensation not only for injury-related medical costs, but also for the cost of vehicle repair or replacement. To learn more about the types of recovery to which you could be entitled, please set up a meeting with one of our dedicated Tulsa auto accident lawyers today.
What to Do After an Accident
After being involved in a collision and ensuring the safety of everyone involved, car accident victims can start thinking about how to preserve proof of property damage. Generally, the more documentation of property damage that a person has, the more likely he or she is to recover compensation for that damage. This includes taking photos of the scene of the accident and the damage sustained by the vehicles from different angles. Exchanging information with the other driver is also critical, as it is this information that insurers and attorneys can use to begin negotiations with the at-fault driver.
Rental Cars and Repairs
For those whose vehicles are seriously damaged in an accident, it may be necessary to obtain a rental car, at least while the vehicle is being repaired. This expense is often covered by a driver's own insurance. If such coverage is not available, however, accident victims can attempt to recoup those losses from the at-fault driver who caused the crash. During this time, a driver can take his or her vehicle into the shop for repairs, the cost of which will also be reimbursable if another person is found liable for the accident.
Diminished Value Claims
Besides rental car costs and repair expenses, accident victims may also be able to recover damages under a diminished value claim. These types of claims can be filed in situations where a vehicle, even once it is repaired, is no longer worth as much as it was before the crash. Plaintiffs who are able to prove another driver's negligence could recover compensation for this lost value.
If, however, a car could not be repaired, but is deemed "totaled," the accident victim would be eligible for an amount comparable to the value of the vehicle at the time of the accident. This can be frustrating, as totaled vehicles are often valued at a much lower price than what they were acquired for. Still, obtaining compensation from the at-fault party is one of the only ways for accident victims to recover enough to replace their old vehicle.
Call Our Tulsa Car Accident Legal Team
To learn more about what steps you can take after a car accident to improve your chances of recovering compensation for the repair or replacement of your vehicle, please call 918-492-4433 and speak with the dedicated Tulsa car accident lawyers at Levinson Law, P.C. today.
Resource:
forbes.com/advisor/car-insurance/what-to-do-after-accident/