Remember These Deadlines After Your Oklahoma Car Accident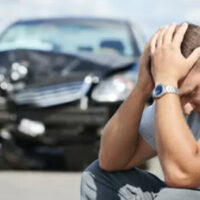 When you're involved in a car crash, stressed out and perhaps suffering from an injury, you probably aren't thinking about time limits for filing a claim. The reality, however, is that much of life is dictated by deadlines, and accident victims who fail to remember this could end up with no legal options for recovering compensation. To ensure that your own claim isn't threatened by a failure to comply with an important deadline, consider reaching out to an experienced Tulsa auto accident lawyer who can help protect your interests.
Reporting the Crash
The first deadline that you'll face after a crash starts immediately, with calling the police. Not only is taking this step important in helping people get compensation after a collision, but is actually legally required. In fact, the only time a person can leave the scene of an accident without reporting it to the authorities is when there have been no injuries or deaths and the property damage is less than $300. Even minor fender benders can result in thousands of dollars worth of damage, so it's safe to say that if you're involved in a collision, you will most likely be required to report it.
Getting Medical Attention
There's no legal time limit for seeking medical care after an accident. Waiting to get your injuries checked out can, however, have significant repercussions for your claim. Generally, the longer you wait to get treated for an injury, the less willing an insurer will be to cover those costs. An insurer may deny a claim outright, arguing that the injuries could have happened at any time between the crash and the actual date when treatment was sought. To avoid this, accident victims should be sure to seek medical attention as soon as possible after a crash. Taking this step can also ensure that injuries don't worsen over time.
Calling Your Insurer
Even those who weren't at fault for their accidents will need to report the crash to their insurer within a day or two of it happening. While each insurance company has its own timelines, it's usually a good idea to report the accident as soon as possible. Whether done over the phone or by using an application, a policyholder will be able to get the ball rolling on recovering compensation for the crash if they report the crash immediately.
Filing a Lawsuit
Under Oklahoma law, car accident victims have two years from the date of their accident to seek compensation from the at-fault party by filing a civil lawsuit in court. While it may sound like plenty of time, it can pass quickly. Speaking with an experienced car accident attorney as soon as possible after your crash is one of the best things you can do to improve your chances of filing  a successful claim before this deadline.
Contact Our Office to Set Up a Free Consultation
For a free evaluation of your own car accident claim, please call 918-492-4433 and schedule a meeting with one of the dedicated Tulsa auto accident lawyers at Levinson Law, P.C. today.
Resource:
oid.ok.gov/wp-content/uploads/2020/01/2020_Auto-Brochure.pdf