How Social Media Could Negatively Affect Your Car Accident Case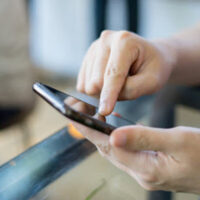 Social media has become increasingly prevalent in our day to day lives. While these sites do allow family and friends to stay in touch despite long distance and have a number of other benefits, they can also have negative consequences. Social media posts, for instance, are often taken out of context by opposing legal counsel and used in court to give them a leg up in personal injury litigation. This is especially true for car accident cases, where a defendant may use a picture posted by the plaintiff to argue that his or her injuries aren't as severe as is being claimed. For this reason, car accident victims are usually encouraged to stay off social media entirely until their case is resolved. Unfortunately, even this isn't enough to guarantee that a legal opponent won't try to use the posts of your loved ones to weaken your claim. For help protecting your own legal interests after a collision, please reach out to one of our experienced Tulsa auto accident lawyers today.
Social Media Posts as Evidence
Although most of the evidence presented in a car accident case will be made up of eyewitness testimony, photographs from the scene of the accident, and video footage, these are not the only forms of evidence that could make their way to a  judge. Courts will, for instance, often accept social media posts, photos, videos, and comments as evidence regarding a person's injuries. Photos from the scene of an accident and comments regarding fault could, for instance, be used to contest a plaintiff's property damage claim. Even posts and photos that aren't directly related to the accident could end up being used against an accident victim. Opposing counsel could, for example, present a recently posted photo of the plaintiff at a friend's house as proof that he or she isn't actually suffering from a serious injury. Old, but recently posted photos, could also be misread, giving an impression that someone isn't suffering from an injury at all.
Social Media Do's and Don'ts
There are a few ways to avoid having your posts used against you when pursuing a car accident case, including:
Setting your account to private, although this is no guarantee that your posts won't be used against you in court;
Avoiding accepting new friends or followers, who could be other attorneys or friends of the defendant;
Changing your account passwords;
Avoiding posting new photos, status updates, or location check-ins;
Asking friends and family to avoid tagging, or mentioning you in posts; and
Refraining from speaking about your pending case with anyone online.
While taking these steps may seem like overkill, it can help keep your online presence from being used against you in court.
Free Consultations Available
Please reach out to the dedicated Tulsa car accident lawyers at Levinson Law, P.C. to learn more about the types of evidence that can either weaken or strengthen your personal injury claim. You can set up a free case review by calling our office at 918-492-4433 today.
Resource:
forbes.com/sites/forbesagencycouncil/2019/09/17/is-social-media-going-private/#4f70879a6163