Hygiene Issues in Nursing Homes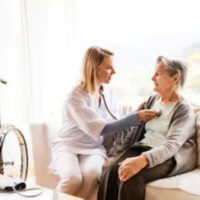 One of the many reasons that people look to nursing homes for help in caring for their loved ones, is a desire for an elderly relative to live in a place where staff are specifically trained to keep residents clean and safe. Unfortunately, improper hygiene is proving to be a very real and serious issue in nursing homes across the country, with many residents suffering the consequences, which include everything from discomfort to poor health. To learn more about your own loved one's nursing home rights and the facility's legal obligations to residents, please call one of our Tulsa nursing home unsanitary conditions lawyers today.
Examples of Poor Hygiene in Nursing Homes
Both state and federal law require nursing homes to keep residents in clean, sanitary, and safe conditions. While this means that facilities should be hazard free and come equipped with grab bars and other safety features, it also means that nursing homes must keep a resident's area and person both clean and sanitary. This typically requires staff to help residents:
Use the restroom;
Change their clothing;
Bathe;
Brush their teeth;
Change unclean bedding;
Keep rooms swept and free of debris and dust; and
Clean wounds and change bandages if necessary.
The importance of a clean environment extends beyond a resident's person and room. Failing to properly sanitize the kitchen or cafeteria could, for instance, result in the serving of contaminated food to residents. Employees should also be careful to keep their hands and equipment clean, especially when dealing with immunocompromised residents. These kinds of errors are often attributed to inadequate training, high employee turnover, and understaffing. Regardless of its cause, unclean conditions pose a serious risk to nursing home residents, who are often more susceptible to contagious illnesses and less capable of recovery
The Dangers of Poor Hygiene in Nursing Homes
While poor hygiene practices should always be avoided, they are particularly dangerous for certain populations, including elderly individuals who are suffering from health problems. Nursing home residents, who often have weaker immune systems are, for instance, much more likely to encounter disease-causing bacteria and viruses when left in unclean conditions. This bacteria can then spread to other residents whose weak immune systems also make them vulnerable. Tragically, far too many families saw the results of the failure to use proper hygiene procedures over the last year, when their own loved ones contracted COVID-19 while residing in a nursing home.
Filing a Claim for Nursing Home Neglect
While nursing homes can be held liable for their negligence in maintaining a clean and safe facility, doing so can be difficult, especially for those who are grappling with a loved one's ill health or recent death. An experienced attorney will, however, be able to shoulder much of the legal burden of holding a negligent facility accountable for its actions, so if you suspect that an elderly loved one has suffered an illness because of improper hygiene at a nursing facility, contact Levinson Law, P.C. at 918-492-4433 to discuss your legal options.
Resource:
law.cornell.edu/uscode/text/42/1395i-3