Motorcycle Intersection Accidents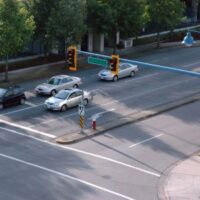 Motorcycle accidents, like any type of vehicle collision, can occur just about anywhere and at any time, but they do tend to occur more often in certain locations, like intersections, where the presence of multiple vehicles and traffic signals make collisions much more likely. Unfortunately, even the most careful of riders could end up injured in a motorcycle accident if someone else in the intersection is negligent. If you or a loved one were injured in a crash, you should consider reaching out to a Tulsa motorcycle accident lawyer for an assessment of your legal options.
Common Causes of Intersection Accidents 
According to the National Highway Traffic Safety Administration (NHTSA), almost half of all fatal motorcycle accidents occur at or near intersections. The majority of these collisions involved a vehicle turning left when a motorcycle was traveling straight and were often the result of:
Distracted driving;
Violating a traffic signal;
Speeding through a red light;
Failing to check a blind spot; or
Driving while fatigued or while under the influence of drugs or alcohol.
Whatever the cause of the accident, the results of a collision between a motorcycle and a passenger vehicle in an intersection are almost always catastrophic for the rider, who doesn't benefit from the protections offered by airbags and seatbelts, or even a barrier between themselves and the road.
Common Motorcycle Accident Injuries 
Motorcyclist injuries are often severe, as these individuals are much more likely to be thrown from their vehicles into the road or even into the path of other oncoming vehicles. Common injuries include:
Crushed, shattered, and broken bones;
Road rash;
Lacerations and amputations;
Traumatic brain injuries (TBIs);
Spinal cord injuries; and
Internal injuries.
Diagnosing and treating these injuries is difficult and expensive, which can be especially frustrating for accident victims who were not at fault for their crash. Fortunately, injured motorcyclists who can prove that someone else's carelessness was the cause of their collision could be entitled to damages compensating them for:
Past and future medical treatment;
Rehabilitation and therapy costs;
Lost income and benefits;
Permanent disability;
Vehicle repair or replacement;
Emotional distress;
Physical pain and suffering; and
Wrongful death.
Recovering these damages can, however, be complicated, which is why it's so important for accident victims to reach out to an attorney who can help collect the types of evidence that will most improve their chances of filing a successful claim.
Contact a Tulsa Motorcycle Accident Lawyer for Help 
At Levinson Law, P.C., we have seen first-hand how devastating the effects of a motorcycle accident can be, not only for the victims themselves, but also for their families. This is why our experienced Tulsa motorcycle accident attorneys are so dedicated to helping injured parties hold negligent drivers accountable by seeking financial compensation for the victim's losses. To learn more about your own legal options following a serious motorcycle accident, feel free to fill out one of our online contact forms or call us at 918-492-4433 today. Complimentary consultations are available.
Sources:
 one.nhtsa.gov/links/GetUpToSpeed/index.html
ncbi.nlm.nih.gov/pmc/articles/PMC7528667/