Oilfield Truck Accidents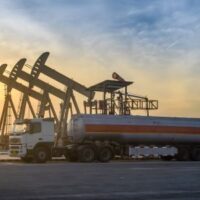 Oilfields pose a number of risks to workers. The conditions, for instance, are dangerous, with employees exposed to harmful chemicals, forced to work long shifts, and required to work with complicated, heavy machinery. Some of the most common accidents, however, that occur on Oklahoma oilfields involve truck drivers.
Oilfield Conditions are Dangerous for Truck Drivers
The spaces between oil wells are often extremely tight, which can raise difficulties for truck drivers who are operating vehicles weighing up to 80,000 pounds that also have massive blindspots. This makes collisions with oilfield equipment and machinery much more likely. Oilfield truck drivers also have to navigate through dirt, mud, gravel, and a lot of heavy machinery, which is made doubly difficult by the size of the vehicles and the weight of their cargos. Combine these difficulties with the long shifts that drivers must work and the exhausting physical labor they must complete, it becomes obvious why driving trucks for the oilfield industry results in so many accidents. This has also proven to be true in Oklahoma, where data reveals that seven percent of all the truck companies licensed to do oilfield work in the state have been involved in fatal accidents.
Oilfield Truck Drivers Work Long Shifts
According to an investigation conducted by the New York Times, many oilfield workers are required to drive trucks for incredibly long shifts, often up to 17 hours. Working such long shifts without taking a break isn't allowed in the commercial trucking industry, where federal regulators strictly limit how many hours truckers can be on the road. Oilfield drivers, however, aren't subject to the same hours of service rules as commercial truck drivers, so companies can bypass these rules, requiring employees to work overly long shifts and significantly increasing the risk of drowsy driving. Oilfield companies also aren't required to abide by the same rules as commercial trucking companies when it comes to maintaining and repairing their vehicles. This explains why many of the oilfield truck accidents that take place in Oklahoma are attributed to problems like bad brakes and overloaded trucks.
Highway Accidents
It's important to note that their long hours and grueling schedules also make it more likely that an oilfield driver will be injured on highways, as these kinds of trucks don't just operate on the oilfield. In fact, one study revealed that the largest cause of fatalities in the oilfield industry is actually highway crashes, with roadway accidents representing almost one out of four oilfield fatalities. This number is almost twice the fatality rate for well maintenance and drilling deaths.
The lack of truck and cargo-related regulation for the oilfield industry puts all oilfield workers, including truck drivers, at serious risk of injury. If you were hurt while driving a truck for an oilfield company, you could be entitled to compensation for your accident-related losses. To learn more, call the dedicated Tulsa oilfield accident attorneys at Levinson Law, P.C. today. You can reach us by calling 918-492-4433 or by sending us an online message.
Sources:
injurylawyerok.com/tulsa-oilfield-accident-lawyer/
stateimpact.npr.org/oklahoma/2016/01/11/oilfield-truck-crashes-in-oklahoma-kill-and-injure-dozens-in-recent-years/