The Types Of Electronic Evidence That Can Strengthen Your Car Accident Claim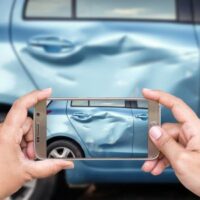 There are two main components to establishing any car accident claim: liability and damages. The former involves proving who was at fault for a crash, while the latter requires proof of how hurt the victim is. Often, electronic evidence plays a critical role in establishing both liability and damages in a car accident case. To learn more about this type of evidence and how it could affect your own accident claim, consider reaching out to an experienced Tulsa auto accident attorney today.
Even Data Recorders
Event Data Recorders (EDRs) are devices that record technical vehicle and occupant information in all vehicles manufactured after 2014. These devices record a wide range of data, including:
Acceleration and braking;
Airbag deployment;
Vehicle speed;
Seat belt usage;
Steering wheel angle; and
Number of impacts.
This information can play an extremely important role in filling the gaps in a driver's accident narrative. At the very least, it can be used to help support other evidence. Furthermore, because the data is quantitative and thereby objective, it is hard to dispute. The data contained on EDRs belongs to the vehicle's owner, but can be accessed via subpoena.
Dashboard Cameras
Another electronic device that can be used to prove fault and damages in a car accident case is the dash cam, which records everything on the road in front of the driver. Some dashboard cameras even have dual lenses that can also film behind the vehicle and inside the passenger compartment at the same time. A wide range of evidence can be generated from dash cam videos, including speed and direction of travel, as well as another vehicle's license plate number, and even the weather conditions at the time of the crash.
Cell Phone Data
In cases where distracted driving is suspected, an accident victim may also want to obtain access to the other driver's cell phone records. Cell phone companies will be able to provide records regarding call times, as well as the durations of incoming and outgoing calls, and even timestamps on text messages. Data communications with satellites used in GPS features can also come in handy when attempting to prove that a driver was using a device at the time of a crash.
Security Cameras
Videos from dash cams aren't the only recordings that can be used to help prove fault in an accident. Many businesses have security cameras installed on the exterior of their buildings and the footage from these recordings can help insurers and juries determine the cause of an accident. Recordings can also be obtained from traffic cameras and even doorbell security devices.
Contact Our Legal Team Today
Call the dedicated Tulsa car accident lawyers at Levinson Law, P.C. if you or a loved one were involved in a crash through no fault of your own. You can reach us at our office to set up a free consultation by calling 918-492-4433 or by sending us an online message.
Resource:
nhtsa.gov/research-data/event-data-recorder