Were You Injured In A Truck Accident Caused By A Tire Blowout?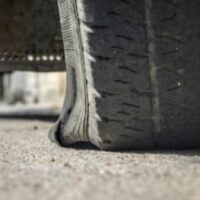 Most commercial vehicles are made up of cabs that are attached (temporarily) to large trailers, both of which have a series of wheels and tires. That's why semi-trucks are commonly referred to as "18 wheelers." Unfortunately, because large trucks travel so many miles and often carry heavy cargo, the tires on those vehicles are more prone to wear and tear than the tires on passenger vehicles, which means that they are also more likely to experience a blowout. Blown out tires can have serious consequences for other road users, who could end up involved in a collision with an out-of-control semi-truck or other commercial vehicle.
The Dangers of Tire Blowouts
A commercial truck can only function properly if its wheels and tires are in good shape, as they are necessary to the proper balancing of the vehicle and the movement of heavy cargo. While it may seem like one blown out tire on a truck with so many wheels might not be noticeable, the reality is that a problem with even a single tire can wreak serious havoc with large trucks, causing a loss of control, swerving, rollovers, and collisions. This is because big rigs are generally harder to drive, with their sheer length and weight making it a lot more difficult for a driver to control the truck after an unexpected blowout. A truck driver could find him or herself struggling to keep the truck straight, or could slam on the brakes or jerk the wheel, causing the truck to jackknife or crash into another vehicle.
Why Do Tire Blowouts Occur?
Large truck tires aren't actually that different from the tires on our passenger vehicles, which means that they could be damaged in the same ways, including by:
Nails or other objects that could puncture the tire, causing it to slowly deflate or become shredded;
Glass and other sharp objects that, rather than puncturing the tire, could slice it, causing a leak;
Coming into contact with a pothole;
Encountering debris on the roadway; or
Striking a curb, median, guardrail, or other object.
Many blowouts, however, are the result of a trucking company's failure to replace old tires after they have become worn down, while others can be attributed to the overloading of cargo, which places too much, or uneven strain on the tires. When a tire blowout can be linked to a trucking company's negligence, then it could end up being held liable for resulting injuries. Manufacturers who produce defective tires could also bear some responsibility, as could a truck's driver for failing to respond reasonably upon experiencing a blown tire.
Were You Injured in a Truck Accident?
If you were involved in an accident caused by a truck tire blowout, the dedicated Tulsa truck accident lawyers at Levinson Law, P.C. may be able to assist you with pursuing damages for your injuries. To schedule a free consultation with a member of our legal team, call us at 918-492-4433 or send us an online message today.
Sources:
fmcsa.dot.gov/safety/research-and-analysis/large-truck-crash-causation-study-analysis-brief
nhtsa.gov/equipment/tires