Were You Injured in an Oilfield Accident?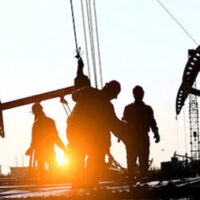 Despite its relatively small size, Oklahoma contains a staggering 5% of the country's crude oil reserves, and is the fourth largest producer of crude oil in the United States. With such a huge sector of the state's economy devoted to crude oil production, it is no surprise that a large percentage of Oklahoma's workforce occupies the oilfield. This also makes Oklahoma home to some of the most tragic and severe oilfield accidents in the country.
If you or a loved one has been injured or killed as a result of an oilfield accident, you have a number of possible legal actions available to you, including remedies under wrongful death, personal injury, and premises liability law. Depending on your circumstances, you may be entitled to damages including medical bills, lost wages, pain and suffering, loss of consortium or companionship, and, in some cases even punitive damages. For this reason, it's important to speak with an experienced Tulsa oilfield injury lawyer to determine the best course of action.
Common Oilfield Accidents
While there are many catastrophic oilfield accidents, such as the 2018 oilfield explosion that killed five workers outside of Quinton, or the 2010 accident in the Gulf of Mexico that killed eleven, there are many much smaller scale accidents and injuries that occur in oilfields every day, and that workers have a right to be compensated for.
For instance, a particularly severe risk when working with oil, is slip-and-fall accidents. Given the inherently slippery texture of oil, and the ability for it to easily be spilled or naturally occurring on the ground of oilfields, many workers experience injuries as a result of slipping on the oily substance. Falling objects also pose a particularly high risk of accident and injury. Falling equipment is particularly dangerous in oilfield settings, as it can cause the work rig or decking to collapse beneath workers, causing, in some cases, grave bodily harm.
What to do if You're Injured
If you've been injured on the job at an oilfield, the first thing you can do is apply for workers' compensation. If you were injured on the job, then you are entitled to receive workers' compensation for your injury, even if it was an accident and the company claims no fault. It's important to note that filing for and receiving workers' compensation does not prevent you from also pursuing civil means of seeking recovery for your injury, so it's also important to speak with an experienced lawyer as soon as possible. An oilfield injury lawyer will assess your specific circumstances and determine how best to proceed in order to ensure you a maximum recovery for your damage. If your employer has received past warnings about possible safety hazards and failed to correct them leading up to this accident, you may also be able to pursue punitive damages from the company, which can be millions of dollars.
Contact an Experienced Tulsa Oilfield Injury Lawyer 
If you or someone you love has been injured or killed in an accident that could have been prevented, you can start taking your power back by speaking to an experienced Tulsa oilfield accident lawyer as soon as possible. The attorneys at Levinson Law, P.C. have experience helping hurt and injured workers and holding large oil companies accountable. Call 918-492-4433 today to schedule a complimentary consultation.
Resource:
eenews.net/stories/1060564501
eia.gov/state/analysis.php?sid=OK