Failure to Yield Motorcycle Accidents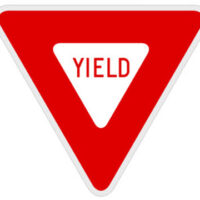 While motorcycle accidents can be attributed to a lot of different things ranging from distracted driving to speeding, many can be linked specifically to a driver's failure to yield the right-of-way. This can occur in a variety of scenarios, but many take place in intersections where a motorist either failed to see a motorcyclist, or ignored a traffic signal and merged or turned in front of them. The results of these kinds of collisions can be devastating for the motorcyclist, whose injuries could be permanently disabling or even fatal.
Failure to Yield Motorcycle Accident Scenarios 
Most failure to yield motorcycle accidents occur when:
A motorist tries to make a left turn in front of an approaching motorcyclist;
A driver unexpectedly pulls out in front of a motorcyclist;
A driver fails to check his or her blind spots before changing lanes; or
A motorist fails to leave enough room for a motorcyclist, crowding him or her off the road.
Of all these scenarios, the first is perhaps the most common. In fact, the National Highway Traffic Safety Administration (NHTSA) estimates that as many as 40 percent of all motorcycle accidents involve situations where a motorcyclist was traveling straight when another driver made an illegal left turn in front of them, causing a collision.
Liability for Failure to Yield Accidents 
Failing to yield is always dangerous, regardless of the types of vehicles involved. There are special risks, however, when one of the vehicles is a motorcycle, as their riders have far less protection in the event of an accident. Failure to yield accidents also tend to occur at relatively high speeds, making it even more likely that a motorcyclist will sustain serious injuries. Fortunately, when an injured motorcyclist can prove that his or her accident was the result of a failure to yield, then the at-fault driver can be held legally liable for any injuries that the motorcyclist suffered, required to compensate the victim for his or her:
Past and future medical bills;
Lost income and benefits;
Permanent disability, scarring, or disfigurement;
Property damage;
Pain and suffering; and
Wrongful death.
Furthermore, under Oklahoma law, any driver who is found to have violated the right-of-way laws and caused a serious injury or a fatality can be assessed a variety of fines and fees.
Speak with an Experienced Tulsa Motorcycle Accident Lawyer 
If you or a loved one were injured in an accident, not because of your own actions, but because another driver failed to yield the right-of-way, you could be entitled to compensatory damages for your losses. To learn more call the dedicated and skilled Tulsa motorcycle accident attorneys at Levinson Law, P.C. We do offer complimentary consultations, so if you have questions or concerns about your own legal options following a motorcycle accident don't hesitate to reach out to our legal team by calling us at 918-492-4433 or by sending us an online message. We are standing by and ready to get started on your case right away.
Sources: 
crashstats.nhtsa.dot.gov/Api/Public/ViewPublication/813306
law.justia.com/codes/oklahoma/2016/title-47/section-47-11-403.1/