I Was Driving A Rental Car At The Time Of My Accident – What Does That Mean For My Claim?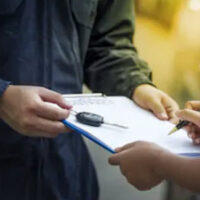 Motorists who are involved in collisions while driving rental cars often face a host of additional issues when attempting to recover compensation for their physical injuries, even if the other driver was at fault for the accident. If you were involved in a crash while renting a vehicle, having a Tulsa auto accident lawyer on your side could make all the difference in the success or failure of your claim. Call our office today to learn more about how we can help.
Renter Liability
Most rental car agreements clearly state that drivers must accept full responsibility for the vehicle that they are driving, including any property damage suffered in a crash. Unfortunately, this means that even if another driver caused an accident, the rental agency will still look to the driver of the rental car to pay for damages, unless that person paid for the rental company insurance. If a driver used a credit card to secure the rental reservation, then there is a chance that the agency will automatically charge the credit card for some or all of the accident-related property damage. The right to do so is often included in the small print of rental agreements. However, it's also possible that a renter's personal car insurance policy will cover the damages for the accident. Even in these cases, a person could end up having to pay a deductible.
Whether renters pay for a rental car's damage personally, or through their insurer, they could still be entitled to reimbursement for those costs if they weren't at fault for the crash. In these cases, the renter's insurer will need to contact the other driver's insurer, specifically seeking compensation for the amount that was paid to the rental agency and providing evidence of fault for the collision.
Damages for Driver Injuries
In addition to being held liable for damage caused to a rental car, at-fault drivers can also be required to compensate rental car drivers for their physical injuries. Whether the injury is a traumatic brain injury, whiplash, or other physical problem, the injured party could be entitled to reimbursement for medical bills, as well as lost wages and even compensation for pain and suffering and emotional distress. To recover these damages, the accident victim will need to reach out and submit a claim to the other driver's insurer. If that insurer refuses to settle with the injured party, then the victim may need to pursue a legal action to recover his or her losses.
Speak with Our Legal Team Today
Resolving car accident liability claims can be complicated, especially when one of the drivers was operating a rental car at the time of the crash. At Levinson Law, P.C., our dedicated Tulsa car accident attorneys are well-versed in how to handle a wide range of car accident-related claims. To learn more, call our law firm at 918-492-4433 or complete one of our online contact forms and a member of our team will get back to you.
Source:
oid.ok.gov/wp-content/uploads/2020/01/2020_Auto-Brochure.pdf