Infections In Nursing Homes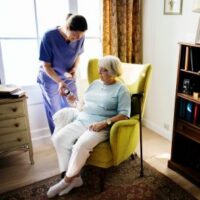 Nursing home residents are typically more susceptible to illness and injury than most people, as they are often elderly and already suffering from multiple medical conditions. Because infections in nursing home populations come with such increased risks of hospitalization, facilities are specifically required to implement strict infection control procedures. Unfortunately, as we saw last year, some facilities are not careful about these rules, leaving residents at a higher risk of illness and infection. Negligent nursing homes can be held liable for this type of carelessness, so if your own loved one suffered an infection in a nursing home due to poor care, it is important to reach out to an experienced Tulsa nursing home neglect lawyer who can walk you through your legal options.
Risk Factors
There are a number of factors that increase a nursing home resident's risk of infection. Having an indwelling device, for instance, makes it much more likely that a person will suffer from an infection. Feeding tubes, which are inserted into the mouth and down the airway are especially problematic, as they are often required on a long-term basis. While these tubes can help deliver medicine and allow residents to bypass swallowing or chewing, the process of implanting and removing the tubes could result in bacteria and other foreign organisms making its way into the body. For this reason, many residents with feeding tubes suffer from aspiration pneumonia and skin and soft tissue infections. Wound drains and catheters come with similar risks.
Other risk factors include recent hospital admissions, where residents have a higher likelihood of contracting illnesses and then, upon returning to the nursing home, infecting other residents. Often, these organisms are resistant to antibiotics, making them even more dangerous for residents, who may have compromised immune systems. Impairments in function and other illnesses can also affect a person's chances of contracting or treating an infection.
Common Nursing Home Infections
Nursing home residents, while at risk of contracting a wide range of illnesses, are especially prone to certain infections, including:
Respiratory infections, such as pneumonia, which is often related to difficulties with feeding and regurgitation of gastric contents;
Urinary tract infections, which are usually attributed to the presence of indwelling catheters or a lack of mobility;
Soft tissue and skin infections, which often accompany pressure ulcers, which in turn are the result of immobility, impaired nutrition, and incontinence; and
Gastroenteritis, like clostridium difficile infections, which are accompanied by abdominal pain, vomiting, and diarrhea and are often resistant to antibiotics.
These infections, while dangerous on their own, can also lead to additional infections in the blood and bones. Fortunately, nursing home infections can be prevented through the implementation of infection control procedures and can be treated successfully if recognized and addressed immediately. When facilities fail to abide by these policies, which require careful assessments of patients and strict sanitation, the results can be devastating for residents and their families.
Call Our Dedicated Legal Team for Help
To set up a consultation with an experienced Tulsa nursing home neglect lawyer, who can help ensure that your loved one's legal rights are protected, please call Levinson Law, P.C. at 918-492-4433 today.
Resource:
cdc.gov/longtermcare/index.html