Bedrail Injuries In Nursing Homes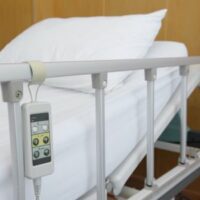 Every year, thousands of nursing home residents are injured in falls, in other accidents, or even as a result of abuse or neglect. Many of these injuries involve unsafe bedrails, which are standard on many nursing homes beds and are essentially hospital beds that have been adapted for long-term use. Unfortunately, the improper use of bedrails poses a very real risk to residents, who could end up suffocating because the equipment restricted their breathing. Nursing homes can and should be held accountable for their dangerous misuse of equipment if their decisions lead to resident injuries, so if your own loved one was injured in a nursing home, it is important to speak with a team of experienced Tulsa nursing home neglect lawyers who can help you seek compensation for his or her losses.
Bedrail Use
Bedrails, as their name suggests, are rails (usually made of metal) that hang on the side of a resident's bed and are used primarily as a form of:
Fall prevention, as they can keep residents from rolling out of bed while they sleep;
Additional support for residents who are attempting to adjust their position or get in and out of bed on their own;
Providing comfort and security; and
Providing easier access to bed controls and personal items.
While their use can have some benefits, bedrails have come under scrutiny in recent years for causing a number of avoidable injuries and deaths, especially in residents with limited mobility and cognitive impairments.
The Risks of Bedrail Use
Installing bedrails, while it may have some benefits, also comes with a number of serious risks, one of which is strangulation or suffocation. This can occur when a resident becomes lodged between the mattress and the bedrail and is unable to move, either due to general frailty or the use of sedating medication. Bedrail use in nursing homes can also cause:
Serious injuries from falling when patients become disoriented or confused and attempt to climb over the rails;
Inducing agitated behavior if used by the nursing home as a restraint;
Preventing patients from easily getting in and out of bed and performing routine activities; and
Inducing a feeling of isolation and restriction.
Because of these dangers, specialists have begun directing nursing homes to comply with a number of guidelines when using this type of equipment. For instance, the U.S. Food and Drug Administration (FDA) directs facilities that do utilize bedrails to consider the following:
Performing ongoing assessments of each resident's physical and mental status;
Closely monitoring high-risk residents;
Lowering one or more sections of the bedrail;
Using mattresses with raised foam edges to prevent residents from getting trapped; and
Reducing the gaps between the side rails and the mattresses.
These are not the only rules, with which nursing homes have to comply. The Centers for Medicare and Medicaid Services (CMS), for instance, requires nursing homes to assess each resident's risk of entrapment before installing bedrails, to take steps to ensure that beds and rails are properly designed to be used together, and to attempt alternatives before installing bedrails. Unfortunately, many nursing homes fail to implement these regulations, putting thousands of residents at risk of injury or death.
Call Our Experienced Tulsa Nursing Home Neglect Lawyers
To speak with a dedicated Oklahoma attorney about your own loved one's nursing home injury, please call Levinson Law, P.C. today. We can be reached at 918-492-4433 or by online message.
Resource:
post-gazette.com/local/city/2017/11/27/Nursing-home-bedrails-siderails-deaths-injuries-restraints-Robert-Frankel-Charles-Morris/stories/201711270006