The Risk Of Choking In Nursing Homes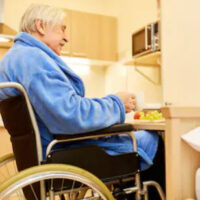 Nursing home residents face many more risks than most, as they often struggle with a number of medical conditions, in addition to the problems that go hand-in-hand with aging. Weak muscles, for instance, can make swallowing extremely difficult for many residents, which can have devastating consequences when facilities or their employees fail to take this into account. If your own loved one had a choking incident at a nursing home that you believe could have been prevented, you could have a case against the nursing home. To learn more, please reach out to our experienced Tulsa nursing home neglect lawyers today.
Choking Causes
Poor balance, loss of hearing, and failing eyesight are commonly recognized symptoms of getting older. An often overlooked side effect of aging, however, is a difficulty swallowing, also referred to as dysphagia. Dysphagia is primarily the result of a loss of muscle strength in the throat and mouth that makes swallowing much more difficult. Degenerative conditions like Parkinson's, however, as well as dry mouth from taking certain medications, or the consequences of a stroke, can all make it harder for the elderly to swallow.
Risks of Choking
Choking has a number of risks, but the most obvious is irreversible brain damage resulting from a lack of oxygen to the brain. Even when the immediate danger of choking has passed, it can cause other problems, such as aspiration pneumonia, which occurs when food is inhaled into and infects the lungs. Obviously, if oxygen is limited for long enough, a resident could even end up losing his or her life.
Mitigating the Risk of Choking
Although some of the problems that create a choking risk for the elderly cannot be avoided, there are some steps that can mitigate these dangers. Following strict food guidelines and dietary restrictions, for instance, as well as cutting food into small pieces, can make all the difference in preventing these kinds of accidents. Other steps that facilities can take to prevent choking include:
Adding prescribed thickening agents to beverages to increase their density and make it easier to swallow;
Tracking the foods a resident is served;
Making food easier to eat through pureeing or julienne cutting;
Keeping track of how fast a resident eats; and
Supervising residents at meal times.
Unfortunately, some nursing homes fail to follow these guidelines, leaving residents unsupervised while they eat or failing to implement dietary restrictions. Whether due to impatience, neglect, understaffing, poor supervision, or a lack of training, this kind of negligence can have devastating consequences for residents. Alternatively, a facility could choose foods that, although easier for a resident to eat, are low in vitamins and minerals, which can lead to malnutrition and other complications.
Experienced Nursing Home Neglect Lawyers in Tulsa, OK
If your one loved is suffering from the consequences of a choking incident that took place while residing in a nursing home, he or she could be eligible for compensation. To learn more about obtaining justice for the wrongs perpetrated by negligent nursing homes, please call Levinson Law, P.C. at 918-492-4433 or fill out one of our online contact forms today.
Resource:
mayoclinic.org/diseases-conditions/dysphagia/symptoms-causes/syc-20372028