Liability For Fixed-Object Collisions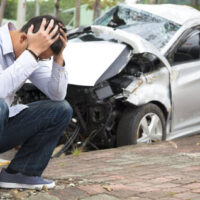 Most of us associate car accidents with collisions between multiple vehicles. While these kinds of accidents make up the majority of crashes, they are by no means the only type. Single vehicle crashes involving collisions with fixed-objects, for instance, occur much more often than most people realize. In fact, the National Highway Traffic Safety Administration (NHTSA) estimates that nearly 15 percent of all car accidents in the U.S. involve collisions with a fixed object. Even when they only involve a single vehicle, fixed-object collisions can still result in serious injuries and significant property damage, so if you were hurt in a single-vehicle crash in Oklahoma, you should consider reaching out to an experienced Tulsa auto accident lawyer, who can help you seek compensation for your medical bills and lost wages.
What Qualifies as a Fixed-Object Collision?
A fixed-object crash occurs when a vehicle collides, not with another vehicle, but with a non-transient object. Examples of fixed objects that are often involved in collisions include:
Light and telephone poles;
Traffic lights;
Guardrails;
Road signs;
Curbs, ditches, and culverts;
Shrubbery and trees;
Embankments and bridges;
Fences and walls;
Buildings; and
Mailboxes.
Although it depends on the weight and size of the object involved in a particular crash, fixed-object collisions can cause injuries that are just as severe as those sustained by victims of multi- vehicle crashes.
Who is Liable for Fixed-Object Crashes?
It's easy to assume that someone who strikes an immovable object while driving is probably at fault for their crash. While this is true in some situations, it is not always the case. Other parties who could be held liable for fixed-object collisions include:
Other drivers, who may have caused the accident victim to strike the stationary object while attempting to swerve out of the first vehicle's way;
Trucking companies, if a truck driver's negligence caused someone else to strike another object in an attempt to avoid a collision, either with the truck or displaced cargo;
Property owners, including landlords that own commercial and residential property near roadways and who have a duty to keep their property clear of objects and debris;
Vehicle parts manufacturers, if an accident was the result of a mechanical defect in a vehicle, such as an issue with the engine, brakes, or steering components; and
Government agencies, who are responsible for maintaining and designing roadways in as safe a manner as possible.
Accident victims who can prove that one or more of these individuals or entities was at fault for an accident could be entitled to compensatory damages, including reimbursement for medical bills, lost wages, property damage, and pain and suffering. To speak with an attorney about who was at fault for your own fixed-object collision, please call our office today.
Speak with an Experienced Tulsa Auto Accident Attorney
At Levinson Law, P.C., our Tulsa car accident lawyers have extensive experience helping people with their injury claims, including fixed-object collisions. Call us today by phone at 918-492-4433 or contact us online to discuss your situation with a member of our legal team.
Resource:
cdan.dot.gov/SASStoredProcess/guest