Recovering Compensation for Oklahoma Oilfield Injuries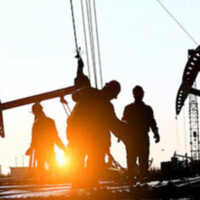 The oil and gas extraction industry is dangerous, especially for employees, who are required to work in strenuous conditions with heavy industrial equipment. Fortunately, employees who are injured on the job while working on an oil rig, oil platform, or oilfield can seek compensation for their losses from their employers, so if you were hurt in this kind of accident, please call our experienced Tulsa oilfield accident lawyers to learn more about filing a claim for compensation.
Recovery Options
For those who were injured while working on an Oklahoma oilfield, compensation for medical bills and lost wages is typically provided by the employer or employer's workers' compensation insurer. In the event that an employee loses his or her life in an oil field accident, workers' compensation should also cover death benefits, which are payable to the deceased's beneficiaries.
While workers' compensation is the most common form of recovery for injured oilfield workers, some are also able to obtain compensation by filing a personal injury lawsuit. This, however, is only possible in cases where the negligence of a third party caused or contributed to the employee's injuries. Unfortunately, it can be difficult to determine who is responsible for this kind of accident, as oil and gas companies often hire a number of different contractors and subcontractors. An experienced oilfield injury lawyer can play an especially important role in identifying the liable parties in this kind of case.
Oilfield Accidents and Resulting Injuries
The oil and gas extraction business is physically grueling and requires specific training and compliance with a number of safety measures. Unfortunately, even those who are careful in fulfilling their job duties could end up suffering from an injury, simply because of the nature of the job. Common accidents include:
Fires and explosions
Falls;
Oil rig collapses;
Toxic exposure;
Malfunctioning equipment; and
Oil truck accidents.
These kinds of accidents have a variety of causes, but most can be linked to inadequate training, the improper storage of chemicals, insufficient inspections, safety violations, and the improper use of tools or machinery. The injuries resulting from this type of negligence tend to be severe, including everything from amputations and disfiguring burns to hearing loss and traumatic brain injury. Fortunately, employees who are injured on the job can generally expect to recover compensation for their medical bills and a portion of their lost wages. If a person's injuries are so severe that he or she becomes permanently disabled, then the injured party could also collect benefits for the rest of their lives.
Get Help from an Experienced Oilfield Injury Attorney in Oklahoma
If you were injured on the job while working for an oil or gas extraction company and have been denied benefits by your employer, or you believe that you may have a valid claim against a negligent third party, please call the experienced Tulsa oilfield injury lawyers at Levinson Law, P.C. You can set up a complimentary consultation by calling our office at 918-492-4433 or by sending us an online message.
Resource:
owcc.state.ok.us/employees_faq.htm#16