Nursing Home Abuse and Neglect Damages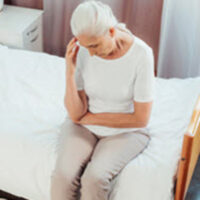 While no amount of money can truly compensate someone for having to suffer abuse or neglect at the hands of a nursing home employee, recovering monetary compensation can go a long way towards helping victims of abuse obtain the medical care and support that they need. Unfortunately, seeking monetary damages in these types of cases can be difficult, so if your loved one was injured as a result of a nursing home's negligence, you should speak with an experienced Tulsa nursing home abuse lawyer who can help you file a claim.
Compensatory Damages
Nursing home abuse victims who can provide proof of a facility's negligence or wrongdoing could be entitled to a wide range of damages, including compensatory damages for their economic losses, which includes reimbursement for:
Medical care related to the victim's injuries;
Any personal and financial losses suffered by the victim;
The cost of future medical care required by the victim;
The cost of relocating to a new long-term care facility; and
Any other expenses related to the abuse.
In addition to economic damages, nursing home abuse victims are also often eligible for another type of compensatory damages that are referred to as non-economic damages. Unlike economic damages, these kinds of awards are intended to compensate claimants not for losses like medical bills and housing costs, but for losses that are more difficult to calculate, such as:
The physical pain and suffering endured by the victim;
The emotional pain and suffering endured by the victim;
Emotional distress on the part of the victim and his or her family members; and
Loss of society and companionship;
How much a person can recover in non-economic damages depends on the specific circumstances of the case. However, the more severe a person's injuries are or the more egregious the evidence of negligence or wrongdoing, the more a victim can expect to recover. In some cases, a person could even end up recovering more than he or she collected in economic damages.
Punitive Damages
In addition to compensatory damages, courts can also award punitive damages to victims of nursing home abuse, which are intended to punish the defendant and deter similar behavior in the future. However, a court will only award punitive damages if there is evidence that the nursing home resident suffered serious harm and that the nursing home or its employee demonstrated a significant disregard for or indifference for the wellbeing of a resident. For this reason, punitive damages are generally reserved for cases involving intentional or particularly malicious actions and are not typically applied to claims of mere negligence.
Recovering Compensation for Nursing Home Abuse and Neglect
If you or a loved one were the victim of nursing home abuse or neglect, you can and should pursue compensation for your losses. To learn more about filing this type of claim, please call the experienced Tulsa nursing home abuse and neglect lawyers at Levinson Law, P.C. today. You can reach us by calling our office at 918-492-4433 or by sending us an online message.
Resource:
okcfox.com/archive/family-awarded-12m-in-nursing-home-abuse-case