Rising Fears for Residents as Oklahoma Nursing Homes Begin Opening Their Doors to Visitors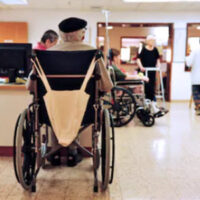 Last week, The Oklahoma Health Department announced that many nursing homes across the state could begin allowing visitors onto their premises for the first time since March. A number of residents and their loved ones, however, have raised concerns that it may be too early to start loosening quarantine restrictions, as demonstrated by the record surge in COVID-19 infections this week. State officials have largely left it up to individual Oklahoma nursing homes to tailor their own visitation policies to align with state guidelines. Unfortunately, this could leave many residents at the mercy of underprepared, understaffed, and undersupplied nursing home administrators.
Determining the scope of a nursing home resident's rights has become more difficult than ever during the COVID-19 pandemic, making it especially important for those who are concerned about the health of their loved ones, to speak with an experienced Tulsa nursing home abuse lawyer who can advise them.
COVID-19-Related Nursing Home Deaths
Although COVID-19 deaths in Oklahoma have been relatively low in comparison to other states, the deaths that have occurred have been primarily concentrated in nursing homes and long-term care facilities. Alarmingly, these locations have already seen a marked increase in COVID-19-related fatalities in the last week. As of last week, for instance, a further 194 long-term care residents in Oklahoma had passed away from the virus, a number that represents a 55 percent increase since May 11th.
Phased-In Reopening Guidelines
Under the direction of the Department of Health, nursing homes in the state have been given permission to open their doors to visitors in accordance with Oklahoma's phased-in reopening guidelines. Under these rules, facilities are encouraged (although not required) to ask visitors to conduct visits outdoors. Furthermore, nursing home facilities are allowed to permit all residents to have limited in-person visits if:
At least two weeks have passed since the facility's last symptomatic COVID-19 case; and
The surrounding county has reported a declining number of cases or a declining positivity rating.
Facilities have also been directed to make masks available to visitors, although they do not have to require visitors to use them. Qualified nursing homes have even been given permission to resume communal dining, in-house salon services, and group activities. These guidelines, in addition to the fact that many nursing homes still do not have a regular supply of N-95 masks or access to COVID-19 tests, could mean that nursing home residents should prepare themselves for another surge in coronavirus cases.
Contact an Experienced Tulsa Nursing Home Abuse Lawyer for Help
To learn more about your own loved one's rights to proper care while residing in a nursing home or long-term care facility, please contact the dedicated Tulsa nursing home abuse lawyers at Levinson Law, P.C. A member of our legal team can be reached by phone at 918-492-4433 or via online message. We also offer complimentary initial consultations for prospective clients, so please don't hesitate to call or contact us online today.
Resource:
coronavirus.health.ok.gov/sites/g/files/gmc786/f/oklahoma_reopening_in_long_term_care_facilities_final_20200610.pdf
https://www.injurylawyerok.com/were-your-loved-ones-fall-injuries-the-result-of-nursing-home-neglect/