The Risk of Social Isolation for Nursing Home Residents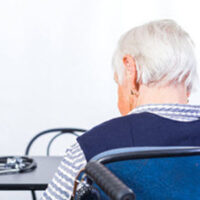 When it comes to our well-being, social interactions can play a vital role in maintaining good health. Unfortunately, certain populations are particularly at risk of suffering from a lack of interpersonal relationships. Nursing home residents, for instance, often suffer from social isolation, whether as a result of a facility's neglect, or even outright abuse. The last thing you want for a loved one is to have their admission to a nursing home cause them further stress from social isolation, so if you believe that a relative is being kept from socially interacting with other residents or staff members, you should consider reaching out to an experienced Tulsa nursing home abuse lawyer who can help you protect their rights and health.
Understanding the Risks
Ongoing research from the National Academies of Sciences, Engineering, and Medicine (NASEM) have revealed that isolation can significantly increase an elderly person's risk for developing serious medical conditions, such as dementia. In fact, some studies have even indicated that elderly individuals who live in isolation are up to 50 percent more likely to show signs of dementia. Other risks associated with prolonged isolation amongst nursing home residents include everything from heart disease and heart failure to cognition-related problems and a loss of mobility.
Liability for Failing to Prevent Social Isolation
Nursing homes and care facilities have a responsibility to address resident withdrawal or social isolation, regardless of its cause. They have a heightened duty, however, to ensure that residents are not facing enforced isolation or neglect by staff, which is often the result of the hiring of insufficient or under qualified employees. Residents who are deemed "difficult", for instance, may be forcibly isolated from other residents, which can cause a further deterioration in their health. In other cases, residents withdraw from social interaction after being abused by an employee, either out of fear of coming into contact with that person or as a result of threats, while in some situations, a resident's withdrawal could be caused by a loss of mobility, speech or hearing impairment, or problems with cognition.
Facilities can prevent all of these risks of isolation by conducting regular resident health examinations, providing access to hearing and communication aids, investigating reports of abuse, regularly checking in with residents and monitoring their condition, and ensuring that all staff members are qualified and properly trained. Unfortunately, many nursing home facilities fail to take these steps, leaving residents more at risk of suffering from the effects of social isolation.
Protecting Your Loved One from Abuse
Nursing homes and long-term care facilities can be held liable for their failure to protect their residents from the risks of social isolation, so if you believe that a loved one has been the victim of nursing home abuse or neglect because of social isolation and have already contacted the authorities, please call 918-492-4433 to speak with one of the experienced nursing home abuse attorneys at Levinson Law, P.C. about your legal options.
Resources:
ncbi.nlm.nih.gov/books/NBK98786/
cdc.gov/aging/publications/features/lonely-older-adults.html
https://www.injurylawyerok.com/liability-for-nursing-home-mismanagement/