Oklahoma Nursing Homes May Re-Open Despite Rising Death-Toll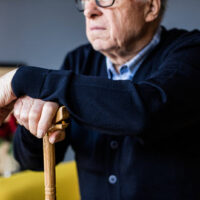 The COVID-19 pandemic has affected millions of Americans nation-wide, however, nursing homes have been hit particularly hard. Nursing homes are believed to be the most vulnerable to COVID-19, as the virus is highly communicable, and, given the communal nature of nursing homes compounded by the fact that they house a high-risk population of elderly adults, they've become a hot spot for the virus.
Numbers on the Rise
As of the week of May 8th, over 60 Oklahoma nursing home facilities had reported at least one case of COVID-19. The death toll for Oklahoma residents and staff reached triple digits. According to the Oklahoma State Department of Health, at least 973 Oklahoma nursing home residents and staff have now tested positive for COVID-19, and the death toll for residents and staff has now reached 108.
Time to Open Nursing Homes?
Despite these grim numbers, and no statistical signs of improvement, Representative Lundy Kiger is advocating for nursing homes to begin allowing visitors back in as early as June 1st. Rep. Kiger is advocating for a "soft reopening" of nursing homes in Oklahoma, which would involve precautions, such as requiring visitors to wear masks and practice social distancing. However, Oklahoma nursing homes, as well as family and friends of residents, are pushing back, saying it is too soon to re-open doors to nursing homes and that the risk is simply too great, particularly considering that the numbers of residents and staff infected are on the rise and have not demonstrated anything to suggest there is a decreased risk for the residents. Additionally, Governor Kevin Stitt has committed to mass testing all 42,000 nursing home residents and staff by the end of May. Officials speculate that the results of this testing could lead to a dramatic surge in COVID-19 cases in facilities statewide, as many may be infected but be unaware, or lack access to testing.
Possible Consequences
While it is undeniable that nursing homes house a very vulnerable population, it's important to remember that they're also hot spots for the virus because of this. Re-opening nursing homes to visitors could therefore also have the unintended consequence of exposing visitors to the virus. One nursing home, Adams PARC Post-Acute Recovery, in Bartlesville, has over 50 confirmed cases of COVID-19 among residents and staff. However, these hard-hit facilities suggest that they may be the most amenable to opening sooner rather than later. These facilities point to the stress that isolation can cause residents, and that many older residents may not have the opportunity to see their families in person again if the facilities are not re-opened soon.
Are You Concerned About Your Loved One?
If you believe a loved one has been injured or contracted COVID-19 as a result of a nursing home or assisted living facility's negligence, it is important to speak with an experienced Tulsa nursing home abuse lawyer as soon as possible. The lawyers at Levinson Law, P.C. will assess your unique circumstances and help you determine whether a lawsuit is the best way to seek justice and financial retribution. Schedule a complimentary consultation today.
Resource:
oklahomawatch.org/2020/05/05/with-lockdowns-relaxing-talk-of-reopening-nursing-homes-emerges/