The Dangers Posed by Inadequately Trained Nursing Home Staff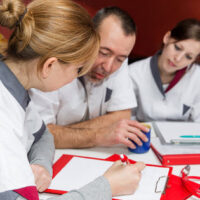 Nursing homes typically engage a wide range of employees, including everyone from registered nurses and physical therapists to cafeteria workers and drivers. All of these individuals require unique training and licensing to ensure that they are able to perform their job duties to the best of their ability. Unfortunately, in addition to the chronic problem of understaffing, nursing homes and similar facilities are also reportedly suffering from a lack of training, which can have serious repercussions for residents.
A failure to properly train staff can have a number of different causes, including a lack of funding, the pressures of understaffing, and general negligence. Whatever the cause, failing to provide nursing home employees with the proper training can have devastating consequences for residents, who may suffer abuse as a result. Fortunately, it is possible to hold nursing home administrators accountable for their failure to properly hire and train their employees, so if you believe that a loved one is receiving improper care at the hands of untrained staff, you should speak with an experienced Tulsa nursing home abuse lawyer who can help protect his or her interests.
Hiring and Orientation
Before hiring nursing home staff, facilities must ensure that applicants satisfy the state's licensing requirements. Under Oklahoma law, for instance, nursing aides and certified medication aides must be registered with the Oklahoma State Department of Health before being hired and can also have no history of abuse or neglect. Similarly, registered nurses must be able to provide proof of graduation from a state approved registered nursing education program and evidence of licensing through the Oklahoma Board of Nursing. Qualified nutritionists, on the other hand, must have a degree in food and nutrition, as well as one year of experience in the dietetic service of a health care institution.
Providing Adequate Training and Ongoing Education
In addition to being required to hire employees who satisfy certain training and education guidelines, nursing homes must also ensure that their staff members receive ongoing training on a regular basis in order to effectively respond to the shifting needs of residents. In Oklahoma, for instance, nursing home administrators are required to ensure that upon hiring, all staff receive a complete orientation, followed by regular training throughout the year. Certified medication aides, for example, must complete eight hours of continuing education every year. Similarly, direct care staff must be given two hours of in-service training that is specific to their job assignment, on a monthly basis. Maintenance personnel, food service staff, dietitians and nutritionists, and housekeeping personnel are also subject to specific continuing education requirements.
Schedule a Complimentary Consultation
Failing to ensure that nursing home employees are properly trained can have devastating consequences for residents, who may end up on the receiving end of sub par care. To learn more about holding a nursing home accountable for failing to provide your loved one with the care that he or she deserves, please contact the experienced Tulsa nursing home abuse attorneys at Levinson Law, P.C. by calling 918-492-4433 today.
Resource:
ok.gov/health2/documents/HRDS_Chapt677.pdf
https://www.injurylawyerok.com/the-chronic-problem-of-understaffed-nursing-homes/