The Chronic Problem of Understaffed Nursing Homes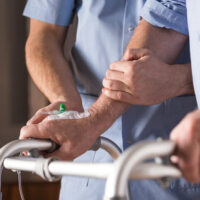 Understaffing at nursing homes has become an increasingly serious issue over the last decade, with the National Center for Biotechnology Information (NCBI) even reporting that nursing home staffing levels in more than half of U.S. nursing homes are too low. When nursing home facilities don't hire enough staff to give each resident the care that he or she requires, it can lead to avoidable mistakes, neglect, and outright abuse. Fortunately, nursing homes and long term care facilities that fail to employ the proper number of staff can be held liable by residents if that understaffing leads to resident neglect or abuse, so if your loved one's nursing home has shown evidence of being understaffed, please reach out to one of our Tulsa nursing home abuse lawyers to learn more about your legal options.
Why are Nursing Homes Understaffed?
There are a number of reasons for the increasingly common practice of failing to properly staff nursing homes. For instance, nursing homes have relatively high labor costs when compared to other expenses and many nursing homes can simply not afford to hire as many registered nurses and certified nursing assistants as they need. Instead, many facilities make efforts to stretch existing staff as much as they can, which can have serious long term consequences.
In other cases, nursing facilities may be unable to retain the services of qualified medical professionals, as many nurses and assistants prefer to work in less demanding and stressful environments. It is also not uncommon for facilities in rural areas and small towns to have difficulty finding individuals with proper qualifications to fill vacant positions. Unfortunately, understaffing is also often the result of efforts by facility administrators to cut costs and increase profits, an alarmingly common practice in privately run nursing homes.
The Effects of Understaffing on Care
Research has revealed that residents who live in understaffed nursing homes are generally at greater risk of suffering from malnutrition, weight loss, dehydration, infections, and other problems. These consequences can largely be explained by the fact that existing employees at understaffed facilities are forced to work more quickly, causing nurses and other employees to make mistakes and miss changes in a resident's condition. High workloads also make it nearly impossible for nursing home staff to provide individualized care and proper supervision, resulting in a diminished level of care and leaving residents more at risk of suffering from:
Immobility-related harm, such as bed sores, skin infections, and muscle atrophy;
Unmet physical, grooming, emotional, and medical needs; and
Abuse, such as physical assault and verbal harassment, which can often be linked to employee stress, exhaustion, and overwork.
To speak with an experienced attorney about recovering compensation for these types of neglect and abuse-related injuries, please call our office today.
Is Your Relative a Resident of an Understaffed Facility?
If your loved one was harmed as a result of understaffing-related nursing home neglect or abuse, he or she could be entitled to compensation for medical bills and pain and suffering. Please call Levinson Law, P.C. at 918-492-4433 to speak with one of our experienced Tulsa nursing home neglect and abuse lawyers about the viability of your claim.
Resource:
ncbi.nlm.nih.gov/pmc/articles/PMC4833431/
https://www.injurylawyerok.com/which-residents-are-most-at-risk-of-becoming-victims-of-nursing-home-abuse/