How Nursing Homes Cover Up Abuse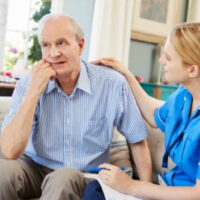 We place our trust in nursing home staff to care for our relatives and report any abuse as quickly as possible. Unfortunately, nursing homes don't always respond appropriately to allegations of abuse and neglect and may even go out of their way to cover them up.
When your loved one suffers abuse or neglect at the hands of nursing home staff members, it is important for you to have a thorough understanding of your rights and how to best protect your relative going forward. If you believe your own loved one has been abused or neglected in a nursing home facility, please contact our Tulsa nursing home abuse lawyers for help with your case.
Failing to Report Abuse or Neglect
Nursing homes are legally required to report suspected nursing home abuse or neglect. Unfortunately, many do not, often due to a staff member's fear of losing his or her job, or an administrator's desire to avoid jeopardizing the reputation of a facility. While a cover up of a nursing home abuse allegation could be a one time occurrence, it is much more likely that  nursing homes that engage in these kinds of activities have a history of discouraging the reporting of injuries or terminating employees who do bring concerns to their attention.
Misrepresenting an Injury
Abuse or neglect is often covered up by staff members or administrators who intentionally misrepresent how a resident sustained an injury. For instance, an unscrupulous employee could claim that an injury was the result of a fall when it wasn't, or that the resident never notified the staff of the injury. Employees may lie about their own conduct, or the conduct of others to protect not only themselves, but also their colleagues.
Alternatively, an employee could attempt to hide an injury resulting from abuse or neglect entirely, by using makeup, long sleeve clothing, or isolating the resident from others. They may also try to discard any evidence of abuse like video recordings or medical records.
Falsifying Nursing Home Records
Another common way that nursing homes attempt to cover up abuse or neglect is to instruct employees to falsify facility records. This could involve the creation of entirely new records, as well as the backdating of already existing records. In other cases, a faculty may not necessarily be trying to conceal anything, but may simply fail to update a patient's information out of negligence or overwork.
Failing to Document Changes
Nursing homes are required to take note of any changes in a resident's condition, including:
Any physical injuries, such as fractures, cuts, bruises, or signs of restraint;
Proof of dehydration, malnutrition, or unexplained weight loss;
Bedsores or infections;
Changes in a resident's personality or mood;
Evidence of withdrawal, depression, fear, anxiety, or agitation; and
Changes in a resident's environment.
Failing to record these types of changes in a resident's health or behavior could be proof that a nursing home is trying to cover up abuse or neglect.
Call Today for Help with Your Case
If you believe that your loved one was abused or neglected while residing in a nursing home and the facility failed to notify you, take action, or actively tried to cover it up, please contact the experienced nursing home abuse attorneys at Levinson Law, P.C. by calling 918-492-4433 to learn more about your legal options.
Resource:
medicare.gov/what-medicare-covers/what-part-a-covers/reporting-resolving-nursing-home-problems